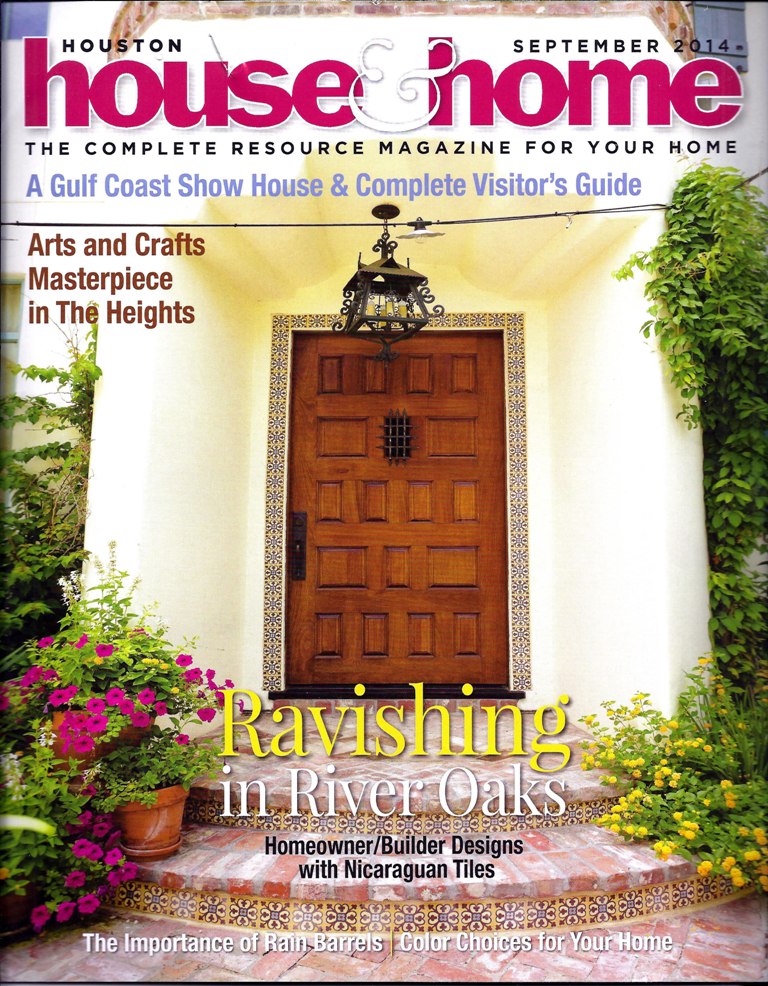 September's Houston House & Home Magazine cover story, "Ravishing in River Oaks," spotlights a beautiful property by Jennifer Hamelet of Mirador Builders that showcases how Granada cement tiles can not only be used to enhance a home's beauty inside and out but it also shows off the versatility of our concrete tiles in creating a number of different looks.  Outside, visitors are ushered inside with cement tile risers on the front steps and concrete tiles around the front door, enchanted with a encaustic tile mosaic on the garden wall, and charmed with a cement tile pool surround.  Inside, the kitchen tile backsplash design and cement tile "rugs" in the Hamelet's design studio, the butler's pantry, and foyer, add to the interior's grandeur.

Among the cement tile styles that Hamelet used were Barcelona cement on the stair treads,  Cluny concrete on the kitchen's backsplash and Sofia encaustic tile on the face of the wall of the pool. Check out our webstore to see which of our beautiful cement tile designs are in stock.
The same qualities that make our cement tiles perfect for a hardworking coffee shop or restaurant space — in addition to their beautiful designs and vivid colors, our concrete tiles are long-lasting, easy care and low maintenance — make it perfect for your home, whether used as floor tile, wall tile, kitchen backsplash or pool surround tile.  Call us today at 213-482-8070 to discuss which of our encaustic tile designs would be perfect for your home or restaurant project.