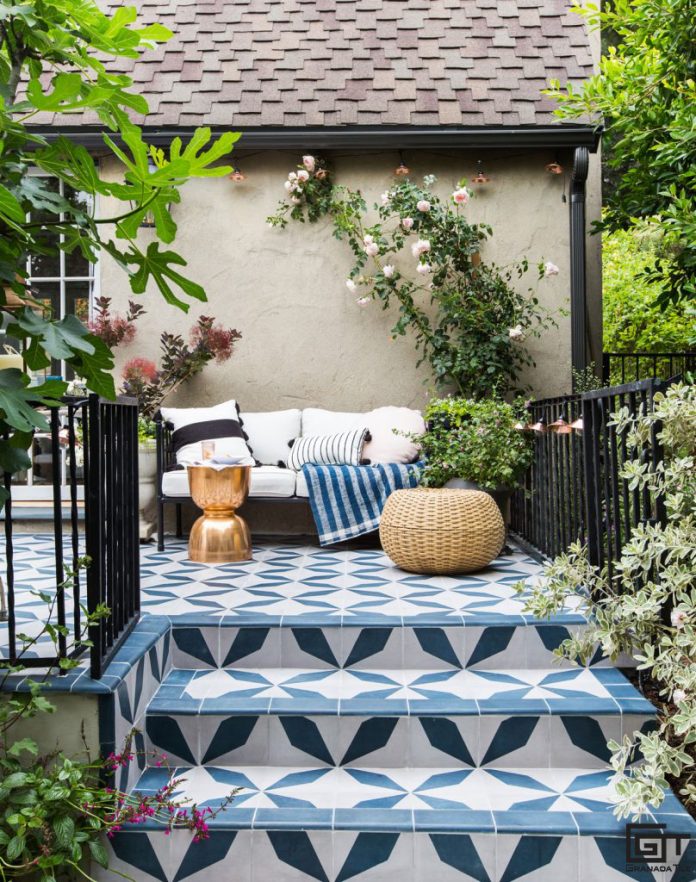 Creating a custom, stylish patio does not need to be a challenge with the creative use of stunning cement tiles. Outdoor areas often pose a challenge for interior designers, as the open spacing can offer complications. With the creative use of cement tiles, interior designers can introduce innovative and striking elements into walkways, patios, and all outdoor living spaces.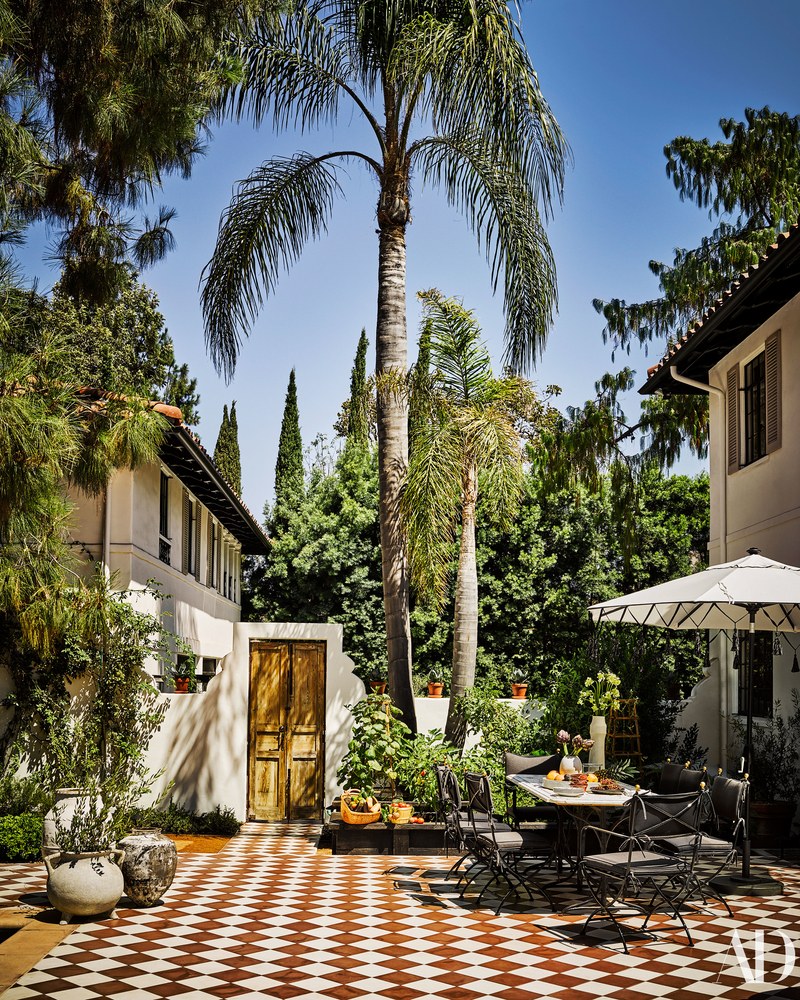 Interior designers, Nate Berkus and Jeremiah Brent, were featured in their new Los Angeles home in Architectural Digest. While the interior of the home is stunning in and of itself, the true feature is their luxurious patio. The space features Granada Tile's  in stock cement tiles that gives a Spanish flair to the sun-kissed foliage. The coffee and white pattern lends visual interest to the vintage 19th-century Italian marble table atop it, and leads the eye across the space to the formal entryway standing amongst lush, manicured plants.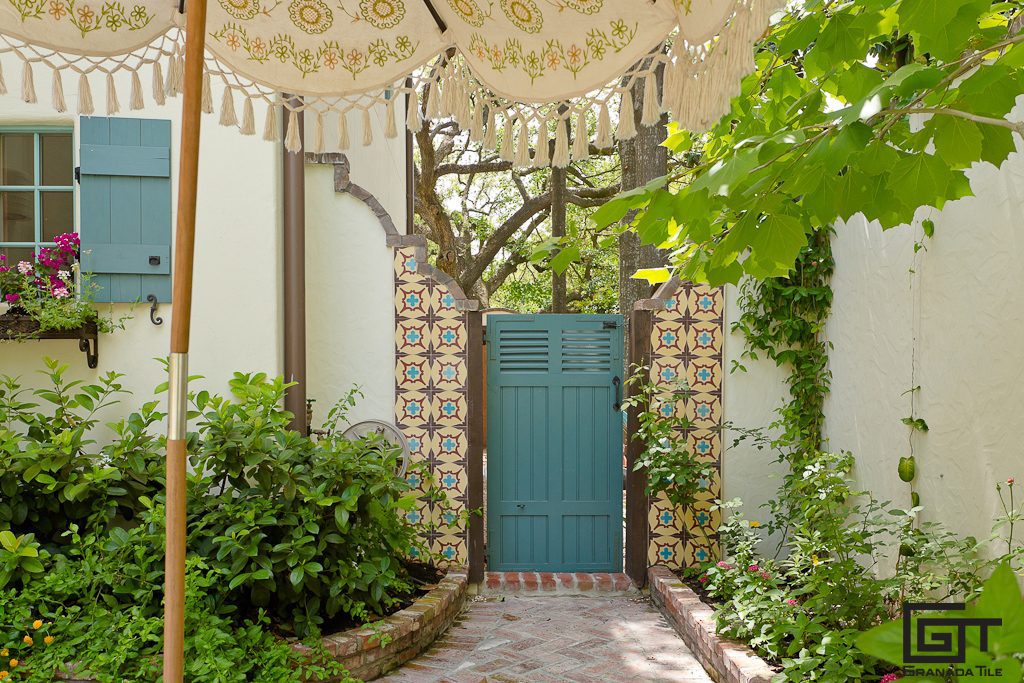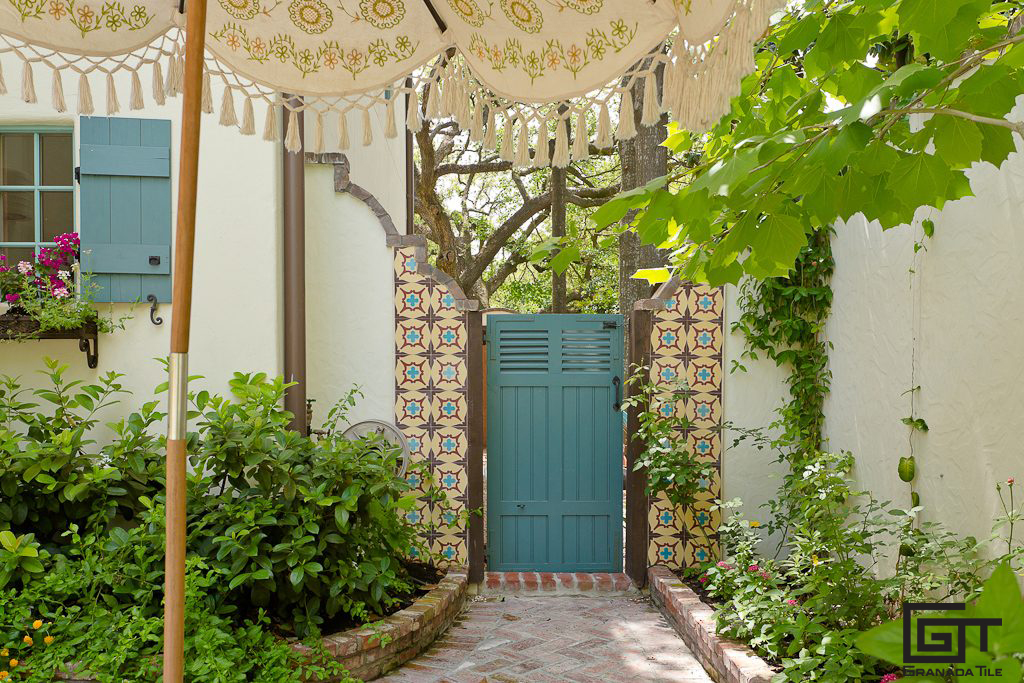 Texas-based, Mirador Builders, opted for an enhancement of a small space by lining their entryway with the soft pattern of Barcelona cement tile. Interior designers will find inspiration in the starburst-inspired pattern framing a custom door in the entry of this home's private patio. The blue and brown colors work well to provide a cozy accompaniment to the bright colors of the surrounding greenery.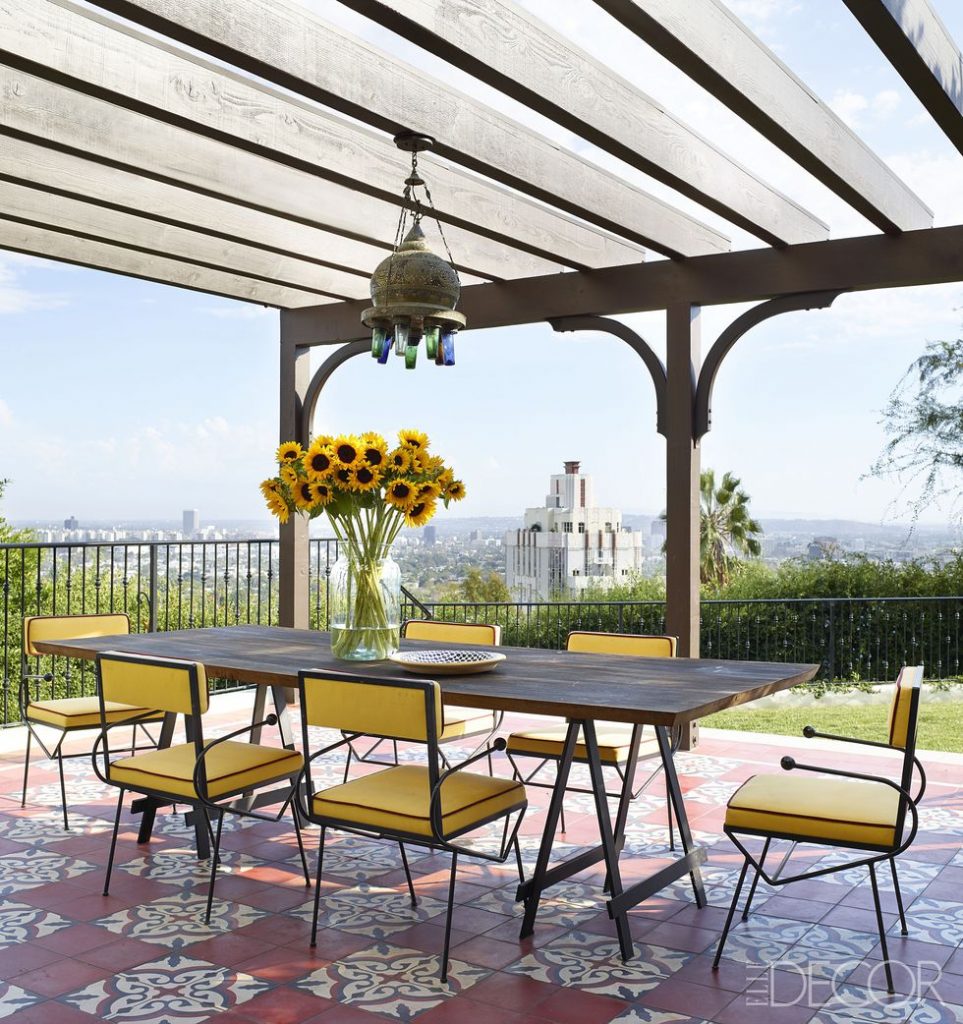 Open spaces do not need to be crowded to be beautiful. When working with a home which offers plenty of natural amenities, such as a stunning view, Pamela Shamshiri of Commune Design opts to let specific colors pop against the background. The home's outdoor space, featured in Elle Decor, mixes the natural-toned Sofia tile pattern with Terracotta solids. Topped with a viewing area enveloped in bright yellows and deep woods, the patio manages to be intriguing and intimate without sacrificing the sweeping landscape.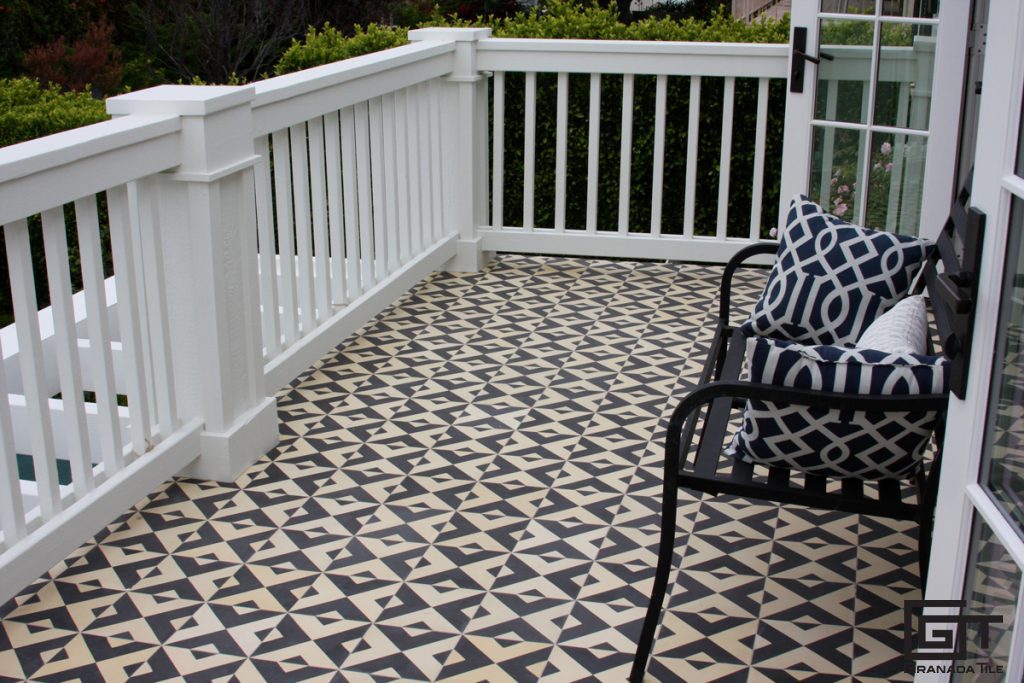 Modern trends swept through popular magazines within the last century, but they are rarely featured outside. Designer Jill Burnham, brings modernity to the natural world in her recent patio design, which highlights the white fencing of an enclosed porch with black and cream Serengeti cement tiles. The sharp angles and small, repeating tiles work well with her black iron furniture and keeps the space inviting while thoroughly chic.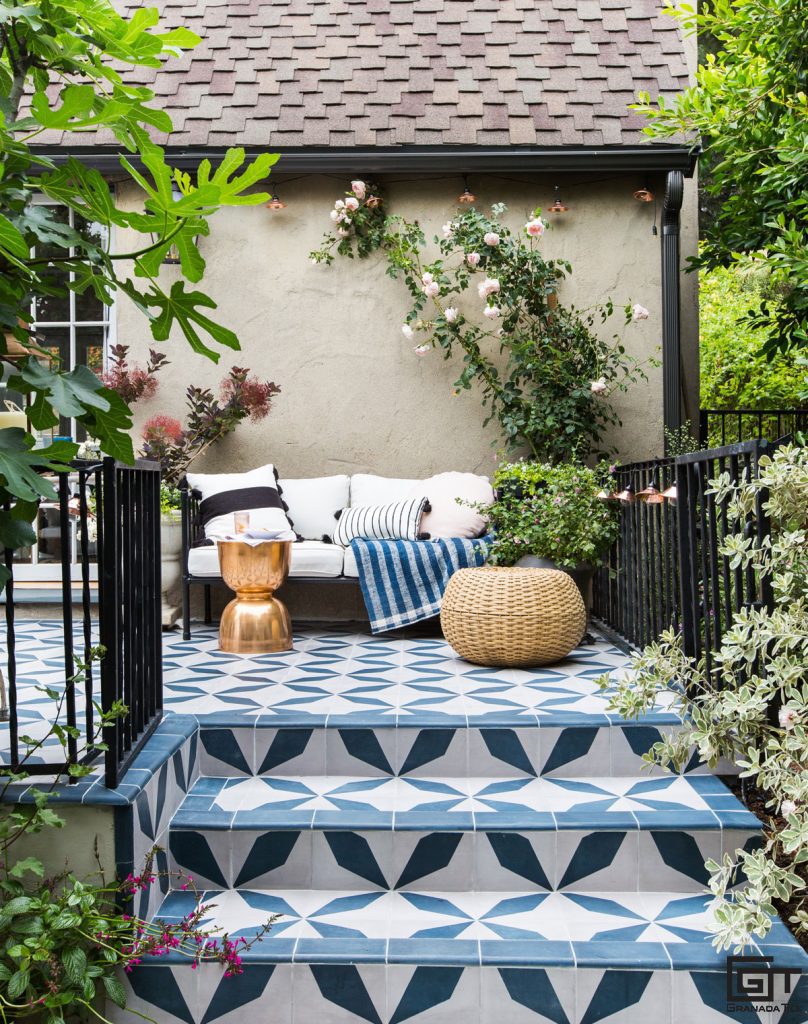 For Emily Henderson, evoking a sense of Mediterranean class is crucial in her designs. Her patio design brings soothing blues into her elevated outdoor space. With the use of Buniel cement tiles, her large patterns work to open up a small area. Blended flawlessly into the beachy whites, natural woods, and climbing greenery, the tile invites in guests without overwhelming decor.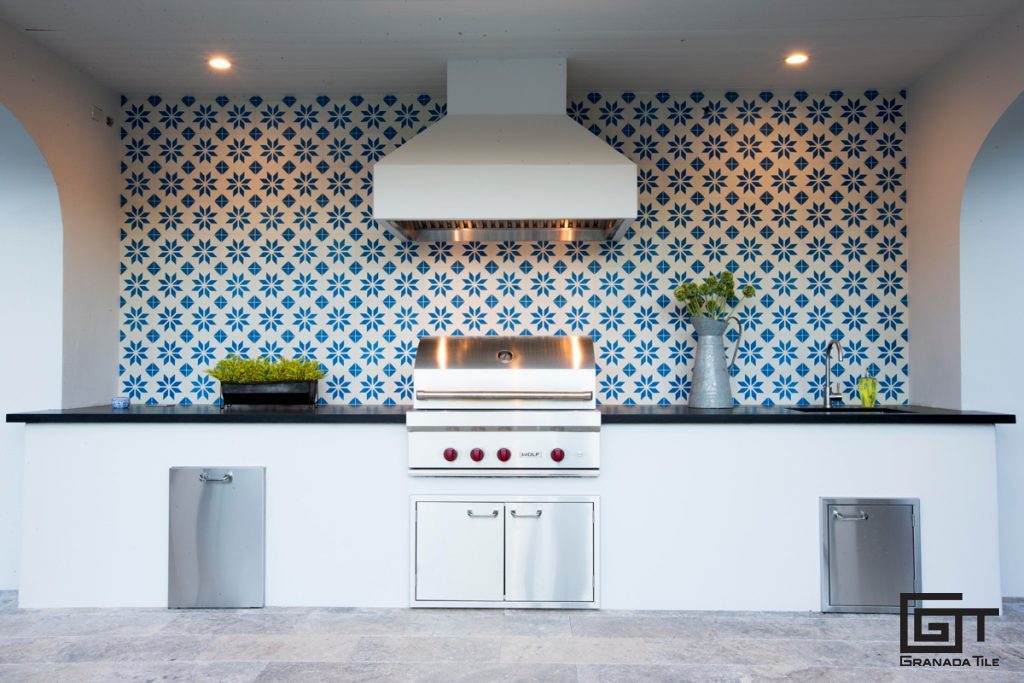 While stylish patios often feature lounging areas, function must also remain in the designer's minds. Homeowners who like to entertain may want to incorporate outdoor kitchens, but this does not mean style needs to be sacrificed. Outdoor kitchens can bring in color and life with the use of cement tiles, either as the floor, countertops, or backsplash. A wall-to-wall accent piece, using small repeating patterns such as the Calais tile, breathes life into an otherwise stark utility area. For even the most challenging areas, cement tiles can introduce an element of style. To learn more about what cement tiles can do for your design projects, call 213-788-4238.