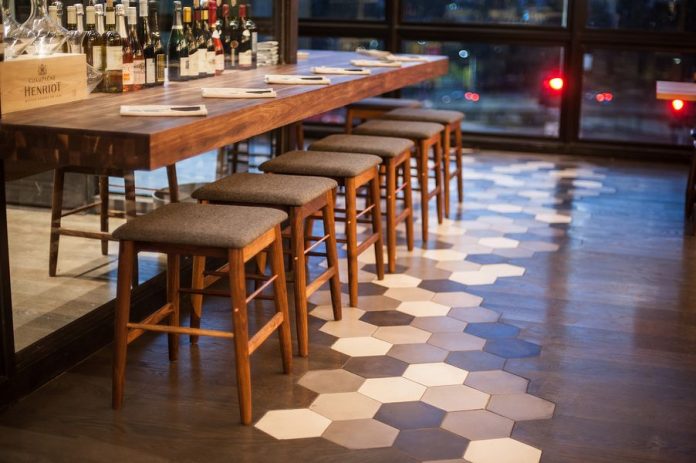 While hardly a modern material, encaustic tiles are very popular in the home decorating and interior design world. Homeowners of all tastes are turning towards tiles, specifically cement tiles, for their unique patterns, vivid colors, and practical qualities. If you've been looking into this endearing material, you may have come across varying terms and descriptions, and some confusion over what you're actually looking for. Some sources describe encaustic cement tiles, and others say cement tiles aren't actually encaustic. So which is it?
We've created this blog post to help clear up any confusion you have over encaustic tiles and cement tiles, and to lay a clear foundation for what products will be best for your home projects and for the look you're going for.
What Does Encaustic Mean?
The term encaustic means "to heat or burn in" from an ancient Greek word. Encaustic materials are produced through a process which involves heating to seal in the dyes and clays. Traditional encaustic tiles are made using clay and powdered glazes, and are fired in a coal or wood-fired kiln. The firing process heats the clay and powdered colors to seal in the design and create a hard surface. These types of tiles are technically called ceramic tiles, but many sources and even tile manufacturers have interchangeably referred to them as both ceramic and cement tiles.
The Difference Between Cement and Ceramic Tiles
Cement and ceramic tiles may look quite similar to each other, but they are actually made with very different materials and processes. Cement tiles are made with a mixture of cement, sand, pigment, and mineral powders that is poured into a metal mold that forms the pattern design. Ceramic tiles involve clays and glazes that are fired in a kiln.
Many tile buyers have become confused by the ambiguous term encaustic, since it has become normalized to describe both cement and ceramic tiles. When you're looking at a specific product, you'll want to do your research and contact the manufacturer to determine whether they are cement or ceramic tiles if you aren't sure.
You may also find this useful: Cement Tiles vs Ceramic Tiles
Are Cement Tiles Truly Encaustic?
No, cement tiles are not truly encaustic, but it is an acceptable label for cement tiles, also known as inlaid tiles. When cement tiles were first introduced during the mid-1800s, the Victorians thought they looked just like encaustic tiles which have been around for centuries, and mistakenly started referring to them as encaustic tiles also. Since then, the term has been widely used interchangeably to describe these two tile art forms.
The Features and Benefits of Encaustic Cement Tiles
Besides the varying manufacturing processes, you may wonder about the biggest differences between encaustic cement and ceramic tiles and why you would choose one over the other. Encaustic cement tiles and ceramic tiles both come in countless patterns and color combinations. They often feature designs inspired by different cultures and architectural influences. They are also both used in many types of projects, from kitchen backsplashes to floors to outdoor spaces to decorative wall features.
History has shown us that cement tiles typically hold up better than ceramic tiles and display less wear and tear over time. When comparing two different tile floors in Paris that were both installed in the early 20th century, our team found the cement tile to show less fading and wear than the ceramic tile.
When glazed, ceramic tiles are scratch-resistant and waterproof and make great materials for a kitchen backsplash, bathroom countertop, or a decorative wall feature. However, they aren't the best for high traffic areas like floors, inside showers, or outdoor patios.
Cement tiles are more durable than ceramic tiles and make for the ideal choice for both light and heavy traffic areas in and outside your home. They make great kitchen, living room and bathroom floors, shower tiles, backsplashes, and patios and outdoor showers.
Here are a few more of the unique qualities of encaustic cement tiles which may inspire you to choose them over ceramic tiles:
Cement tiles are eco-friendly. Since they aren't fired, they use far less energy than ceramic tiles and do not emit pollution into the air.
Cement tiles use all natural ingredients.
Cement tiles are individually handmade to create one-of-a-kind products with their own subtle variations.
Cement tiles are scratch-resistant and less likely to cause slip and falls. (It meets the standards for slip resistance established by ASTM (can't remember what that stands for).
Cement tiles are suitable for busy areas, the outdoors, and for decorative features.
Places to Use Encaustic Tile
Encaustic tile has been a popular product for centuries for many reasons. One reason is that it is very versatile and can be used in many different spaces. Encaustic cement tile is especially durable compared to traditional encaustic ceramic tile, and so it can withstand heavier usage and a harder beating over the years.
A few popular places to use cement tiles are as encaustic cement floor tiles in a main living area and as encaustic bathroom floor tiles.
Browse through our Floor Tiles in our Gallery and you'll see that encaustic cement floor tiles transform a space, no matter if that space is modern and bold, eclectic and bohemian, or fun and colorful. At Granada Tile, we offer traditional encaustic floor tiles made with both bright  and subtle colors and intricate patterns as well as bold geometric designs and clean lines.
Consider using encaustic cement floor tiles in these applications:
In the family room as a practical flooring material
As an accent piece in the dining room
On the stair risers
In the kitchen
Down a hallway
To create a faux rug or runner
In an outdoor living space, like a patio
While hardwoods can warp and ceramic tiles don't hold up well to busy areas, encaustic cement tiles can withstand the wear and tear of a busy family and mother nature.
Encaustic bathroom floor tiles showcase the resiliency of this material even more than their use as regular floor tiles. Cement encaustic tile will help you make your bathroom beautiful, slip-resistant and water-damage resistant, especially if the tile is used on both the floors and walls. Just check out our Bathroom tiles section in our Gallery to see for yourself.
Try encaustic bathroom floor tiles in these areas:
Vanity
Soap shelf in the shower
Inside a built-in storage area
Ceiling
By using encaustic floor tiles in every area of a bathroom, you're creating not only an aesthetically beautiful space that feels both classic and trendy, but also an equally practical space that keeps up with your family's every day demands.
The Dos and Don'ts of Encaustic Cement Tile
Installing encaustic floor tiles can easily be a DIY project, but there are a few important steps and tips that will help make your project much more successful. Read our step-by-step guide for installing encaustic cement tile to learn more.
Additionally, encaustic tile works best in certain environments. It does not work well in seasonal climates with freeze and thaw cycles because the shift in temperature can cause lifting of the tile. Encaustic cement floor tiles also shouldn't be used near chemically-treated water, like pool surrounds because the chemicals can fade and damage the design.
Take care of your encaustic tile and help extend its already long lifespan by spraying it down with water as soon as it gets dirty or spilled on, and seal it every couple of years. The little maintenance required of encaustic cement tile will make a world of difference in how it keeps up for you.
Where You Can Find Encaustic Cement Tiles
Granada Tile is the number one online manufacturer specializing in cement tiles. They have their own cement tile designs in a variety of collections and patterns, and will create a one-of-a-kind design for you if you have your own pattern and color combination in mind.
Get in contact with the sales team today at sales@granadatile.com to request a sample tile and begin the process of ordering your own unique encaustic cement tile.