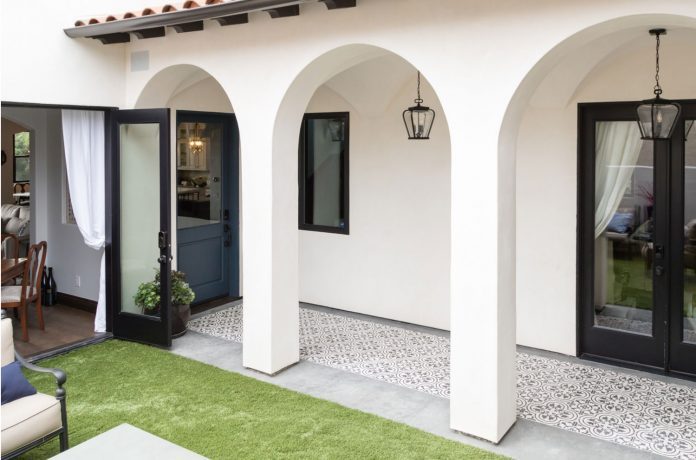 Tiles have been one of the most classic and beloved décor materials for centuries. The craft dates back to 20,000 BC when humans started making figures and objects using clay and other materials with in-ground kilns.
While tile trends come and go, one color combination has remained a tried-and-true classic for centuries: black and white tile. Patterned black and white tile go with just about any color palette and style. While once commonly confined to interiors, black and white modern tile is leaving the nest and entering the great outdoors, making this design element even more versatile.
Let's dive into some of the ways you can use black and white tile in your outdoor living space that will allow you to design the most beautiful, classic and resilient patio!
Why You Should Choose Cement Tiles for Your Patio
They haven't been around as long as traditional ceramic tiles, but cement tiles are making history in the design world. Homeowners, builders and designers alike are turning to this modern tile for floors and walls of both indoor and outdoor spaces more and more.
Cement tiles are made with hard-wearing materials including cement, sand and powdered marble; its manufacturing process involves a mechanical hydraulic press putting over 2,000 pounds of pressure on the tiles. Cement tiles aren't made with any stains or glazes on the surface and aren't fired in a kiln, but rather poured into molds and compressed. This creates a top color layer ⅛" thick and makes cement tiles far more durable and fade and crack-resistant than ceramic tiles. Some even claim they are far more beautiful than pavers or poured concrete.
Cement tiles also suit these modern outdoor living trends that may be important to you:
Al Fresco Dining. Homeowners are bringing the indoors out with dining and lounging that rivals its indoor counterpart. Cement tiles, when used on a patio, can create the illusion of an interior floor and withstand outdoor weather and heavy furniture usage.
Artisan Made. Homeowners are demanding products and materials that have a story to tell with handmade charm more than ever. Unlike ceramic tiles, cement tiles aren't mass produced and are made by hand by talented artisans. No two tiles are exactly alike and each displays the minimal quirks that only artisan-made products have.
Classic and Bold Patios with Black and White Tiles
While cement tiles will look beautiful and last for many years to come, trends do not. That's why we encourage our clients to choose classic designs that will hold strong throughout the years.
The classic contrast between black and white will always appeal to the eye and help define a space. When used outdoors, the contrast is even more stunning, juxtaposed against the organic shapes and colors of nature. Black and white modern tile will make your patio a statement piece, while offering the perfect amount of contrast and elegance.
Different Styles of Black and White Patio Tile
The sky's the limit when it comes to creating an elegant and ever-stylish outdoor patio. A couple of our favorite black and white tile designs are geometric modern tile and traditional Moorish designs found in our Echo collection.
Modern tile designs include hexagons, stripes, starbursts, diamonds, essential shapes, dual toned, repeating geometric patterns found in our Moroccan collection and the bold retro tiles found under the Designer Erin Adams.
Traditional tile designs include intricate Moroccan tiles, scroll-like Mediterranean tile and old world-inspired Spanish Colonial tile.
With Granada Tile, any cement tile can be customized to the shape, size and color you desire. If you fall in love with a tile pattern and want it in black and white, we can do that for you.
Ways to Use Black and White Tiles on a Patio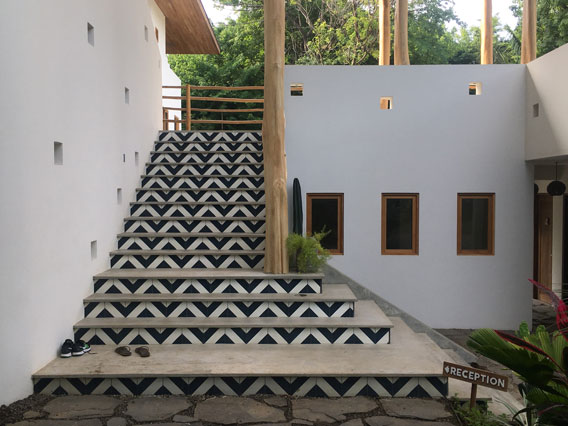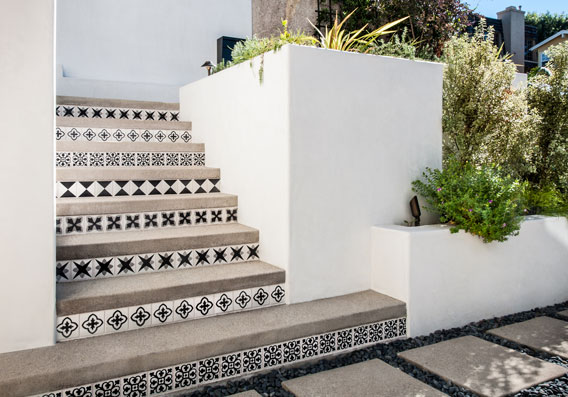 The patio is a place for welcoming solitary relaxation, lively conversation and to serve as the perfect backdrop for outdoor dining.
There are many ways to use black and white modern tile for a patio, with these being some of our favorites:
Create a rug. Choose a plain, solid color tile for the border and a more intricate design for the inner part to create a rug or runner look. A tile rug is the ultimate way to bring the elements of the indoors outside.
The entire patio. Of course, you can always tile the entire patio floor. Whether you use modern tile or traditional black and white tiles, the result will be a wow-factor that serves as the anchor and focal point of your outdoor living space.
Steps leading to the patio. If you have steps leading to or from the patio, you can tile the risers of the steps with

black and white tiles

to give them a stylish purpose as seen in the photos above.  
Around a fire pit or on a fireplace. Encourage family and friends to gather around the fire pit or outdoor fireplace with elegant black and white tiles.
Surrounding a water feature. Tile around a water feature, like a fountain, pond or small pool to make it stand out and separate it from other outdoor areas.
Around outdoor seating. Having plenty of seating for guests is very important on a patio, with built-in seating being the latest must-have. Tile the patio floor and on the sides of the built-in seating using black and white modern tile to add style to your outdoor conversation setting.
The Best Accessories for a Black and White Patio
There really is no wrong or right way to accessorize with black and white. Use neutral and serene accents to create an elegant, calming and clean space. Use bright colors to give the area some pop. Colorful outdoor fabrics are on trend right now and can make your black and white patio the ultimate entertaining spot.
The only must-have for an outdoor patio is furniture that looks and feels like indoor furniture. Splurge a little for high quality furniture that will encourage you and your loved ones to stay and lounge a while.
Granada Tile's Favorite Black and White Patio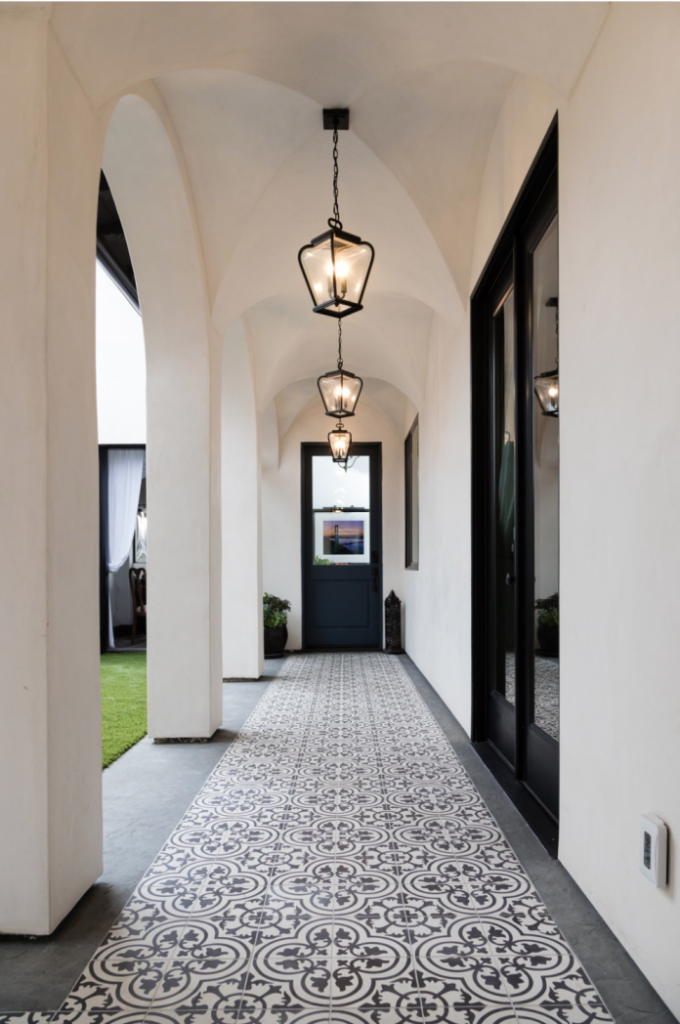 Here's a little inspiration for a black and white tile we're particularly fond of.  
This lovely patio space wraps around the house and doubles as a sitting area and a pathway connecting the exterior entryways. We love the elegant tile design (our Cluny tile) and the black and white against the green space.
For more outdoor design tips, tricks and information on cement tiles, get in touch with the experts at Granada Tile today. We can help you find the perfect black and white tiles for your modern tile space.