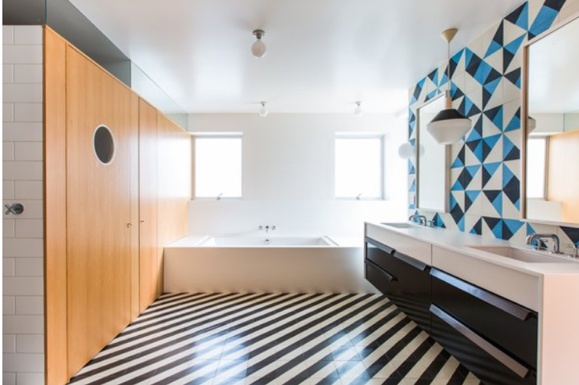 Modern design can mean many things, and in today's design world it showcases clean sleek lines, bold colors and creamy neutrals in bathroom designs. We're also seeing a lot of modern designs combining neutral palettes with clean lines and organic accents, such as wood paneling on the vanity. For tiles, many homeowners are choosing to go bold in their bathrooms with geometric patterned tiles, large designs, and a wide array of hues, with the most emphasis being on a wide range of neutral tones.
If you're in the process of remodeling a bathroom or designing a brand-new space — or you're simply design obsessed with one finger on the pulse of new trends — then you need to know about the latest cement modern tile designs for your bathroom upgrade. We guarantee you'll fall in love with the many ways you can use cement tiles for your modern bathroom design.
Why Are Cement Tiles Great for Modern Bathrooms?
Cement tiles are some of the most durable products on the market and offer homeowners all of the practical features you're looking for in modern bathroom designs. From clean lines to smooth surfaces to resistance against spills, splashes and moisture damage, cement tiles offer it all. What's more, they come in as many designs as you can imagine, from bold geometric patterns to single toned sleek planks to bright colors. No matter how you do modern, cement tiles can deliver.
No matter the style of your bathroom, cement tiles are a great choice for the bathroom for many reasons:
They are soft underfoot but aren't slip hazards
They are resistant to moisture and mold damage
They can be used on the floor, walls and shower to enhance your bathroom
Unlike many ceramic tiles and porcelain tiles that look very traditional, cement tiles offer just as many modern designs as they do traditional styles, and each one is handmade by an artisan. While you may be looking for a modern and sleek tile, you will also get a product that doesn't look mass produced. Modern homeowners and designers are demanding high-quality artisanal products more and more to ensure as authentic a project as possible, and modern cement tile is the only tile that is up for the challenge.
Our Favorite Cement Modern Tile Designs We Know You'll Love
We have three tile designs we think you'll love for your modern bathroom. You'll find a unique repeating geometric pattern, contemporary diagonal stripes, and an eclectic geometric design inspired by an African tribal print. Get inspired!
Fez Tile
The geometric pattern of the Granada Tile Fez tile combines repeating diamonds and large squares with small squares in the middle to create a design that modernizes and takes the classic checkerboard pattern up a notch. We love this tile for a modern bathroom because it adds a bold black and white, or blue and white color combination and pattern to give you a wow factor statement. This same modern tile design was used in a bathroom remodel featured on Apartment Therapy. As you can see, the black and white design complements the sleek white subway tiles used in the shower as well as the warm wooden cabinets. In an otherwise plain space, the tiles add a hearty dose of style and pattern.
Santander Tile
Sleek diagonal stripes take center stage in the Santander tile from Granada Tile. The modern design is perfect for eclectic and contemporary bathrooms alike, and the classic stripes will never go out of style. Tile the bathroom floor with the Santander tile as seen in this modern bathroom by Architect Barbara Bestor, and inside the shower to add a bold pattern to your modern bathroom without overwhelming the space. Any color palette can go with the grey and white stripe design, and what's most popular right now are organic tones and textures like rustic concrete and wood.
Serengeti Tile
The Serengeti tile from Granada Tile combines the historical influences of African tribal prints with an updated modern finish. The repeating squares feature triangle cut-outs in cream and slate grey to keep the design minimal and fresh, all without toning down the boldness of the design in a modern bathroom space. The modern tile would be stunning on a bathroom floor, and it would also lend to an unexpected pop on the walls and behind the vanity. To keep it modern, keep the rest of the bathroom simple and neutral, as seen in this bathroom.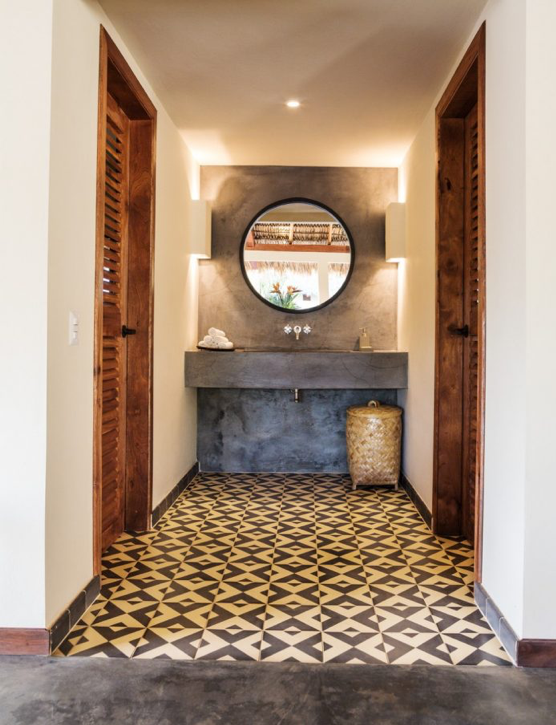 Ready to Get Started? Order Your Modern Cement Tiles from Granada Tile
Are you ready and inspired to design your one-of-a-kind modern bathroom? Browse the modern tile designs from Granada Tile and contact us with any questions you have about selecting your tile design, changing the colors, and ordering the right amount for your project. We also offer custom tile design services where you can create your very own pattern and color combination. The ultimate modern bathroom design awaits. Get in touch with Granada Tile today!