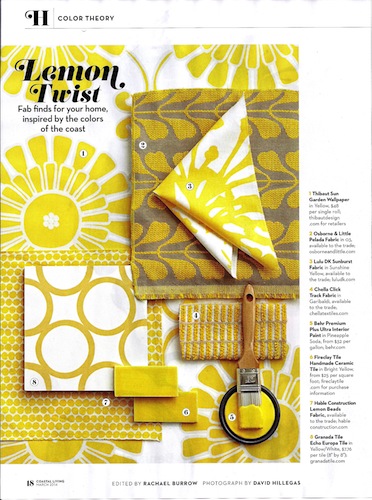 While some of us are still digging out from yet another snow day, the calendar does say that spring is less than a week away. With the promise of warmer and drier days on the horizon, we thought it would be the perfect time to share the latest editorial coverage featuring Granada Tile's sensational cement tile—and give you a little sunny inspiration to boot.
We're thrilled to report that our fabulous concrete tile once again graces the pages of Coastal Living, this time in their March 2014 issue, which is specifically devoted to color. Now, if you've been a cement tile fan for any length of time, you know that we love color here at Granada Tile and offer the option of customizing any of our concrete tile designs in a rainbow of shades. This time around, Coastal Living featured our Europacement tile in yellow and white. With its bubbly pattern of circles, this concrete tile design would add year-round sunshine to your cement tile backsplash. The Coastal Living feature got us thinking about some of our other cement tile designs and how they'd translate into a palette of yellows. Bordeaux immediately springs to mind. Even better, if you're eager to tackle a cement tile installation sooner rather than later, it's available in stock. You could be on the road to new wall tiles in a matter of a few weeks.
You can also try experimenting with ideas of your own too for your own floor tile inspiration. Just visit our interactive Echo Collection catalogue where you can find plenty of cement tile pictures to get you thinking. Of course, if you love several concrete tiles but can't decide, you could always try a patchwork of yellow—a riff on the fabulous concrete tile installation we showed you at Go Greek in Beverly Hills.