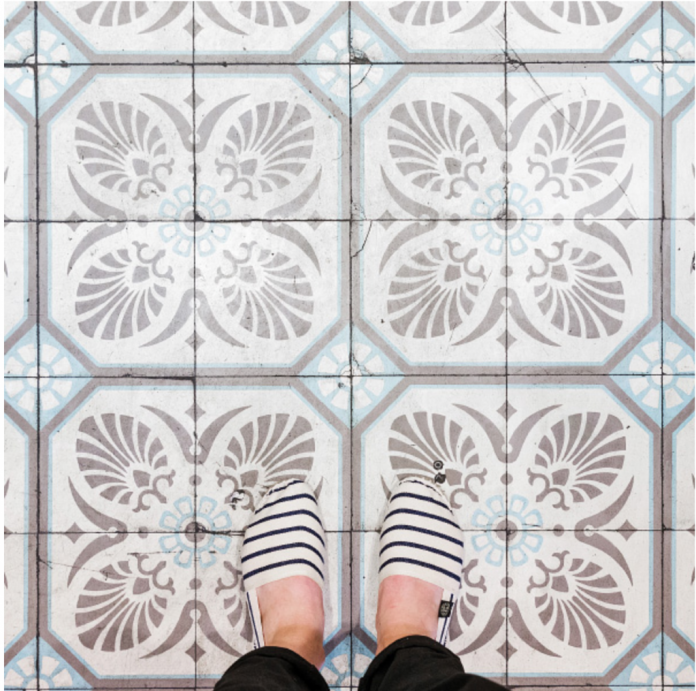 As we shared this summer on our Instagram feed (follow us on Instagram if you're not already; we're @GranadaTile), Paris is not only a beautiful city, it's a city where you'll find beautiful cement tile everywhere you look!  If you have this things with floors like we do and spend as much time looking where your feet are landing as what's in front of you, you'll understand our obsession. 
Now, one photographer has captured the magnificence of the city's concrete tile installations in his beautiful blog.  In a section entitled "Parisian Floors", the City of Light is revealed to be the city of tile, with plenty of beautiful examples of cement tile.  (To achieve a look similar to the one above, try our Rhonda cement tiles in custom; the geometric look of the tiles below are similar in feel to our Fez concrete tiles)
If you would like to recreate any of these looks (or any of the others that you see on Sebastian Erras's website), call us and we can guide you to in-stock patterns or tiles that can give you the look or, if your heart is set on a particular design, we can custom create it for you.  Many of our most popular concrete tile designs, like our Fez encaustic tile in blue and white (similar to the tile directly above), our Cluny concrete tile and our Serengeti cement tile are in stock and ready to ship out to you immediately! The qualities that make Granada Tile's cement tiles the choice of award-winning coffee shops and hot restaurants and the reasons why it can be seen all over Europe, Africa and Latin America — along with their beautiful designs and vivid colors, our concrete tile is long lasting, easy care and low maintenance — are the same ones make it perfect for your home tile project, whether used as patio tile, porch tile, kitchen floor tile, kitchen backsplash tile, bathroom tile, shower tile or laundry room tile.  Start by visiting our cement tile shop to peruse our large selection of in-stock handmade master-crafted cement tiles and call us today at 213-788-4238 to discuss which of our encaustic tile designs would be perfect for your home or restaurant project.