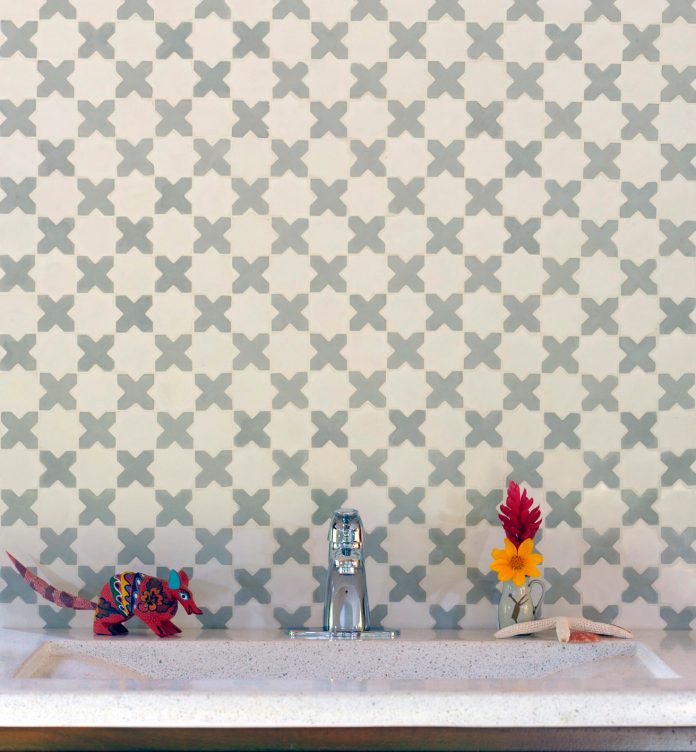 Have you checked out our Minis collection of cement tiles?   The Granada Tile Mini cement tile collection was inspired by the zellige ceramic tile patterns of Morocco, which sprang to life in the 10th century and seem to cover every surface that country.  Our Minis cement tilecollection recreates these classic and timeless designs with one key and important difference: our interpretation uses concrete instead of the original ceramic.  Concrete makes these tiles stronger and less likely to chip, offering superior durability. They're also a more eco-friendly choice, since the cement tiles are air-cured rather than kiln-fired (no thick, choking smoke from our production process to pollute the environment).  And, when wet, concrete tile is not as slippery as ceramic, making them a safer choice for bathroom tile floor or for a kitchen tile floor.  In fact, we won't be surprised if you'll want to use them to cover every surface of your home!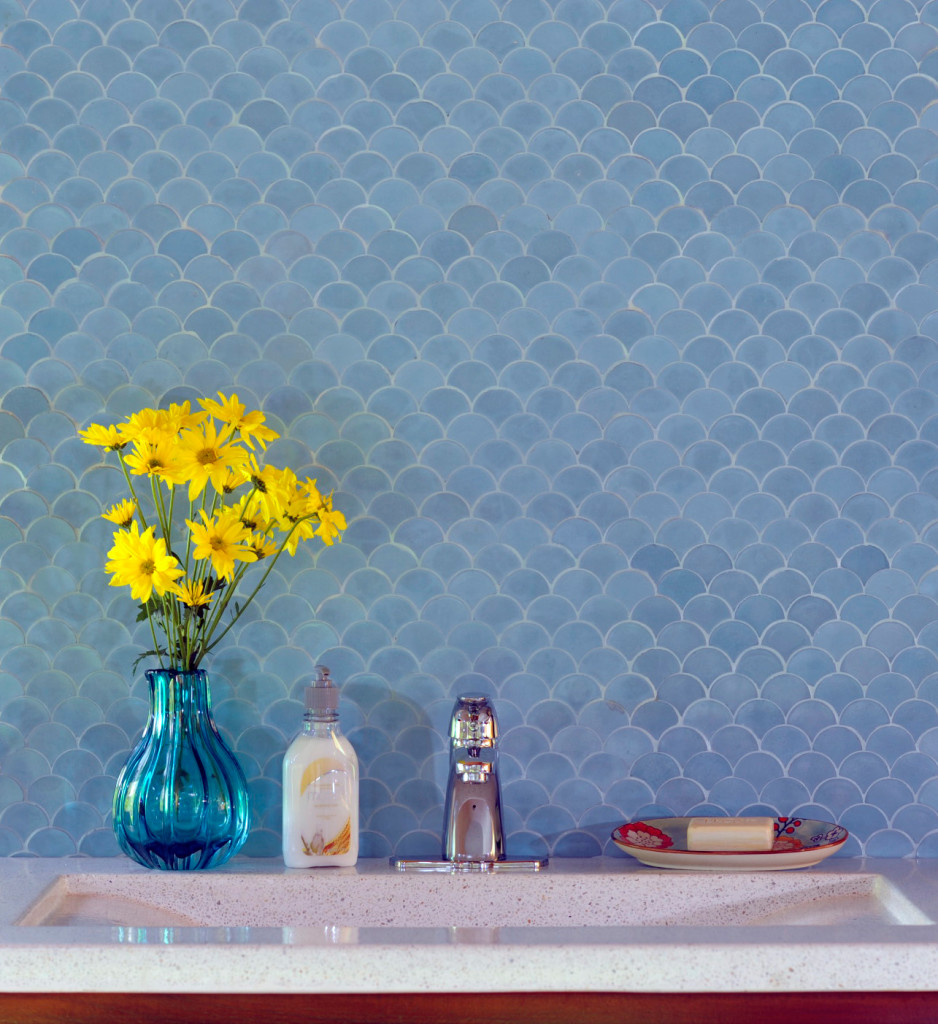 Whether your project is a residential or commercial one, Granada Tile's Minis Collection of concrete tile offers plenty of options.  Like the big sized cement tiles in our encaustic tile collections, the Minis Collection of concrete tiles can be used both inside and outside (except in areas prone to freezing), on floors and on walls. With their undulating, mesmerizing shapes, they bring a dynamic feel to kitchen backsplashes, bathroom floors and walls, and fireplace tile surrounds.  Try the Star Cross cement tile pattern (seen at the top of this post) in a traditional two-toned design, wash a wave of Aqua colored Scale concrete tiles across your shower wall (the second photo) or wake up a kitchen backsplash with playful Kite encaustic tiles in blue and white (see below)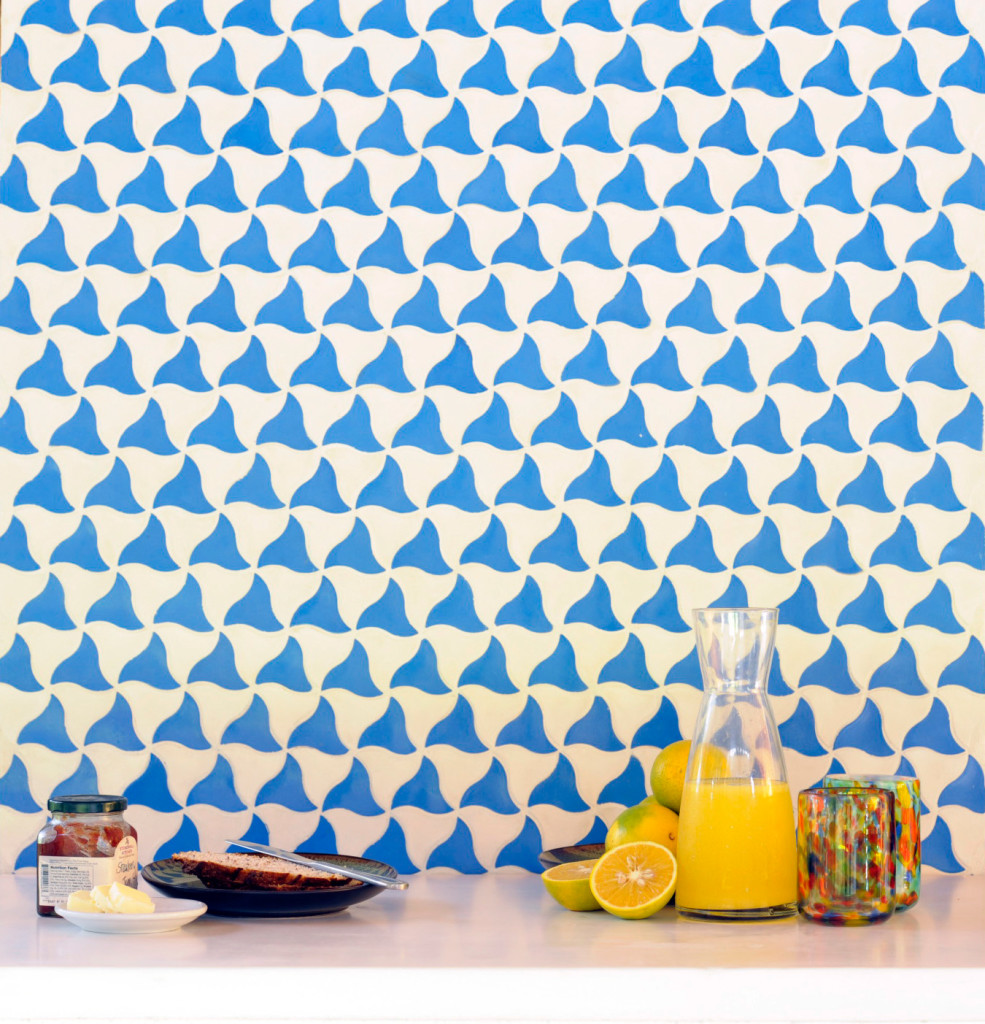 Whether you chose one of the large concrete tiles from our collection or are enchanted with the small size of our Minis encaustic tile Collection, the same qualities that make Granada Tile's cement tiles the perfect choice for a hardworking coffee shop floor tile or a restaurant tile floor — in addition to their beautiful designs and vivid colors, our concrete tiles are long lasting, easy care and low maintenance — are the same ones that make it perfect for your home, whether used as floor tile or wall tile, kitchen backsplash, shower tile or patio tile.  Start by visiting our cement tile web store to peruse our large selection of in-stock handmade master-crafted cement tiles and call us today at 213-482-8070 to discuss which of our encaustic tile designs would be perfect for your home or restaurant project.