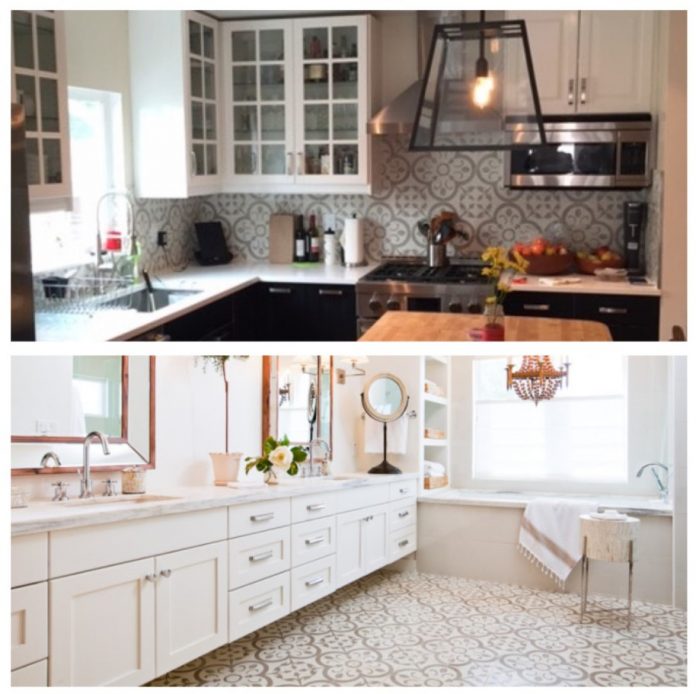 We're not just being pun-ny!  Granada Tile cement tile is versatile.  Whether based on classic designs or modern patterns, our encaustic tile designs work!
Above, our Normandy cement tile, with its loose scrolls in our in-stock grey and white colorway, shows its versatility as a great choice for a kitchen backsplash tile, where it ties together the kitchen's white upper cabinets and its black lower cabinets, and as a bathroom floor tile, where it add a note of luxury, elevating the elegance of the otherwise simple cabinetry. Below, our Sofa cement tile.  On the left, it in a custom black and white colorway, this encaustic tile wall is the perfect balance to a busy nook, where its orderly black and white pattern calms the chaos.  On the right, used as a bathroom floor tile, in our in-stock colorway, this concrete tile pattern, with its notes of yellow, white, sage and coral, adds a note of intrigue and exoticism, as well as warmth, to the small space.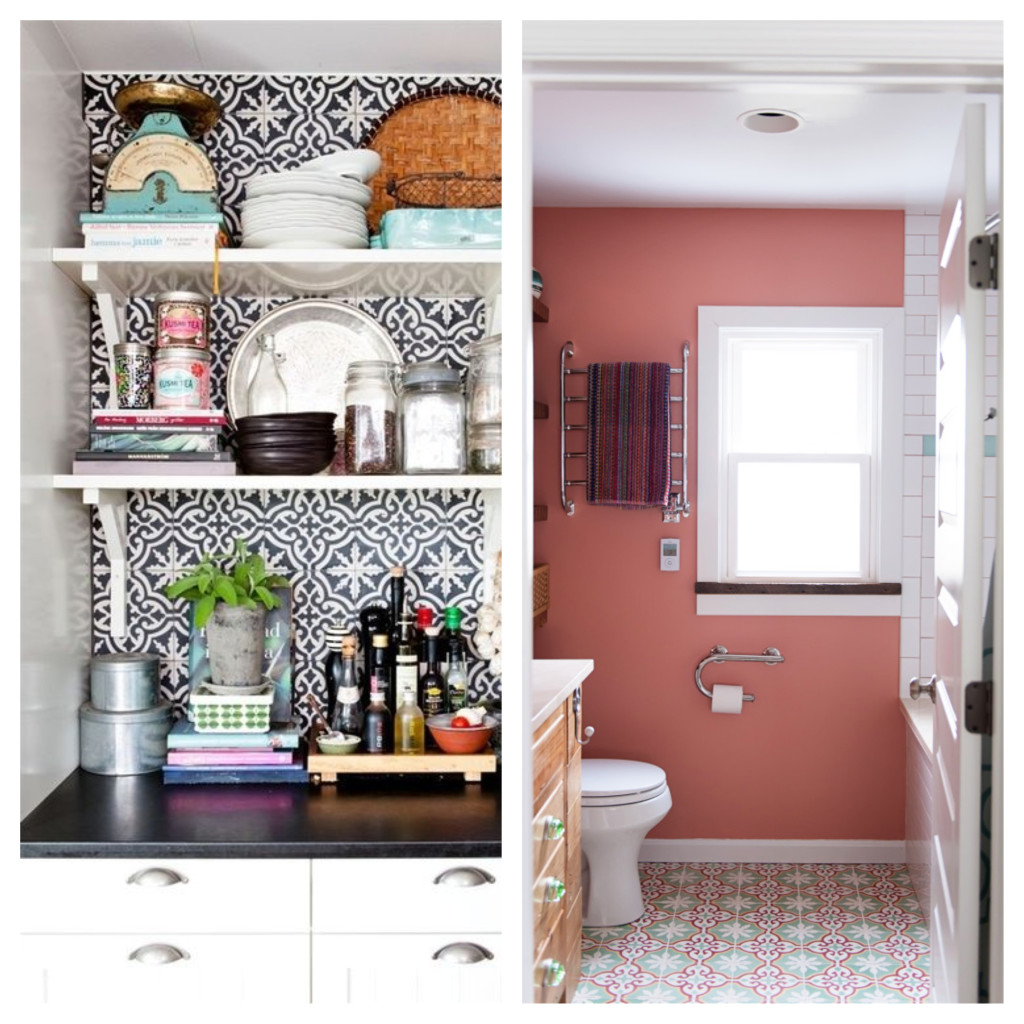 Whatever pattern or colorway of cement tiles you choose, concrete tile is the perfect choice for wet rooms like kitchens and bathrooms.  Whether used as kitchen backsplash tile, kitchen floor tile, bathroom floor tile or shower wall tile, encaustic tile's beauty and durability shine through.  Concrete tile also has a singular quality that makes it great for any space where it might come into contact with water.  Unlike ceramic tile floors, the surface of the cement tile, although it feels soft and almost silky to the touch, actually has microscopic bumps that grip.  And cement tile absorbs water rather than the water forming a slick surface across the top of the tile.  These two qualities add up to a surface that is less likely to be slippery when wet. The qualities that make Granada Tile's cement tiles perfect for a hardworking coffee shop floor tile or restaurant tile floor — in addition to their beautiful designs and vivid colors, our concrete tile is long lasting, easy care and low maintenance — are the same ones that make it perfect for your home, whether used as floor tile or wall tile.  Start by visiting our cement tile web store to peruse our large selection of in-stock handmade master-crafted cement tiles and call us today at 213-482-8070 to discuss which of our encaustic tile designs would be perfect for your home or restaurant project.