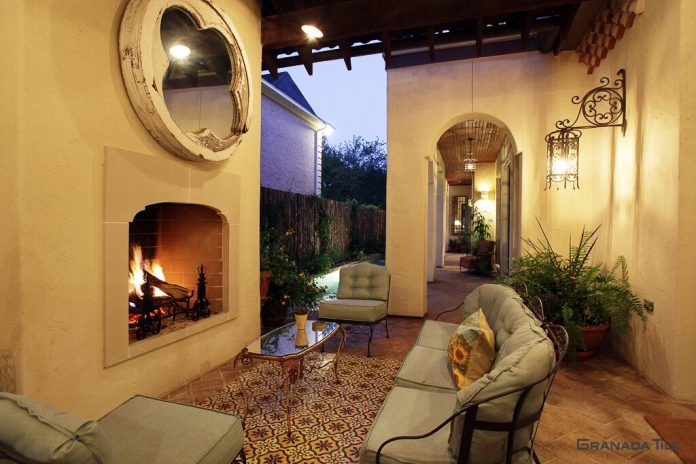 Upgrading the backyard and turning it into the favorite place to relax, unwind, entertain friends and family, and play with the kids is something many homeowners have on their dream to-do lists. The great news is that upgrading your backyard space isn't just a surefire way to increase your quality of life and help you enjoy your home more; it's also a great way to increase your property value.
If you've been thinking about improving your backyard and transforming it into the space of your dreams, start thinking about the materials you want to use. There's a variety of products landscape designers and contractors use to create structures, and it's up to you to decide which is the best for your vision, your budget, and your top priorities.
Cement Tiles for Outdoor Spaces
Cement tiles are quickly becoming the next "must have" trend in the home and garden world. But have no fear; cement tiles aren't going anywhere any time soon and have been around for centuries as one of the most popular decorative materials. Unlike ceramic tiles, cement tiles aren't fired in a kiln and aren't made with clays and glazes that can easily wear away and fade over time. Cement tiles are made with a mixture of cement, sand, dye pigments, and powdered minerals that's poured into a mold and compressed with about one ton of pressure to form a hard-wearing, solid product.
A few caveats before we dig in:
Cement tile is not recommended in areas with freezing temperatures. The repeated freezing and thawing of water in and around the tile can break down the tiles over time.
Cement tile should not be used in pools with chemicals such as chlorine.
Cement Tile vs. Concrete vs. Brick Pavers
The most common materials homeowners and contractors use for outdoor spaces are brick pavers and poured concrete. They are easy to source and most contractors will know how to install these flooring types, but we encourage you to think outside the box. Let's go over a few of the pros and cons of cement tiles, poured concrete, and brick pavers for the flooring of an outdoor space.
 Cement tile vs. poured concrete
Poured concrete is a popular choice for creating large outdoor spaces, like patios and outdoor kitchens and dining areas. However, concrete can crack over time due to temperature fluctuations and heavy use.
Cement tiles are compressed under great pressure when they are sealed and formed. They are not left to cure like poured concrete. If any tiles were to become cracked in your backyard, you can replace them individually, rather than have to demolish and replace an entire section of concrete.
Cement tiles vs. brick pavers
Brick pavers are similar to tiles in that they are individual pieces that are placed and replaced easily without disrupting the rest of the installation. Brick pavers are fairly durable, but can shift over time. You will need to re-level them and replace the foundation sand occasionally.
If you want a truly one-of-a-kind outdoor space that infuses color and pattern, then cement tiles will be best over brick pavers. Cement tiles are laid and installed using a more durable foundation than brick pavers, which prevents them from moving and shifting around.
The Many Ways to Use Cement Floor Tiles in the Backyard
Cement tiles offer about as many potential uses and installation purposes as they do designs. For your backyard, the options are truly limitless with cement tiles to create the space of your dreams.
The Patio
Cement tiles are hard-wearing and durable enough for the patio floor. They can withstand heavy usage and outdoor furniture without fading and scratching.
Walkways
If you have any walkways leading to the backyard from the house, to the pool, or throughout the garden, tile them with cement tiles and take advantage of their durable and easily cleaned surface.
Outdoor Kitchen and Bar
More homeowners are adding kitchens and bars to their backyard space to enjoy the outdoors even more and create the ultimate entertainment spot. Use cement tile for the flooring and backsplash of these areas to combat stains and water damage, and create a statement.
Built-in Seating
If you have a fire pit or other area of your backyard where your family and guests frequently use for relaxing, then built-in seating with cement tiles can create a permanent lounge area that's a feature all in itself.
Outdoor Steps
If you have steps leading to an upper deck area or other part of your backyard, use cement tiles to give them a design upgrade that's also durable and less slippery than many other common flooring options.
Outdoor Shower
Showering outside in nature provides a luxurious experience that makes you feel like you're at a spa. Use cement tile for the floor and walls to tie it in with the rest of your stylish backyard.
If you've been wanting to upgrade your backyard, all it may take is a little tile. Cement tile is a perfect material for the outdoors, but what makes it so special is the almost unlimited amount of design options you have to make it your own.
At Granada Tile, you can choose a design from one of our expertly curated collections, personalize a tile design, or create your own custom design. Transform your backyard into a magazine-worthy retreat with cement tile!