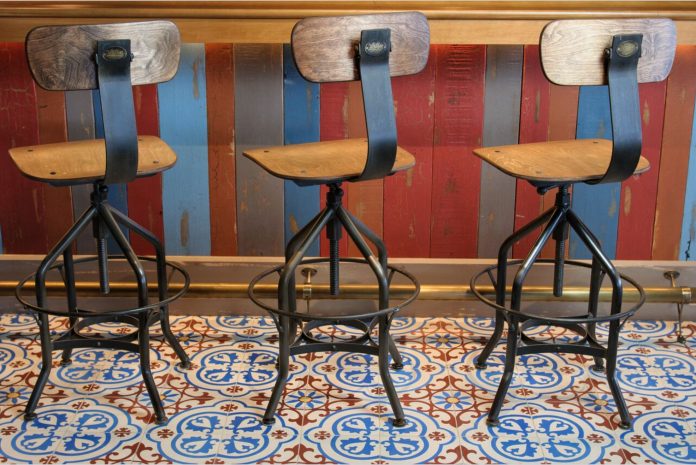 Restaurants love tile for some many reasons — it's beautiful and it's easy to wipe clean. That goes double for cement tile and Granada Tile's cement tile in particular. Our hand made and hand poured designs are durable.  Baked in the sun, they're environmentally friendly.  Cement, unlike porcelain, is porous, so it's less slippery when wet.  And, because the designs are created by pouring the colors into the mold, rather than just painting them on top, scrubbing the tile won't wash away the design.  That's why restaurants love our cement tile and why spotting Granada Tile at a restaurant is a sure sign of a spot with great food.  Bon Appetit offers some tips on taking the tile designs you see at some of your favorite restaurants home. Here a selection of Granada Tile cement tile patterns seen in a variety of restaurants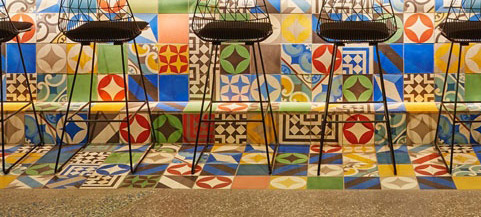 A patchwork of Granada Tile's cement tile's at Duke's La Jolla, above.  Below, Proof at the Four Season's in Scottsdale Arizona, where Granada Tile's Copenhagen concrete tiles in red, white and blue, evoke bandannas and the Old West.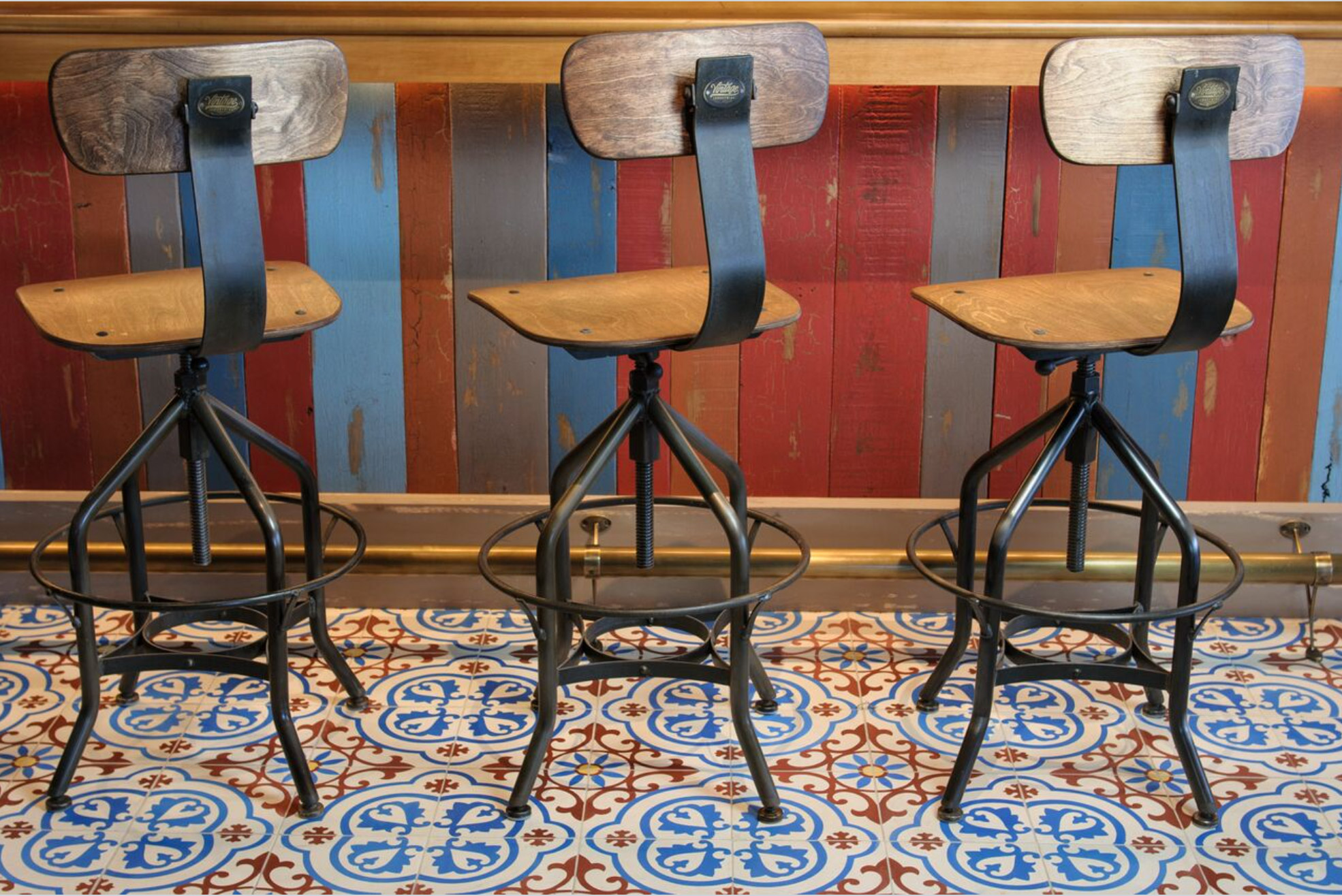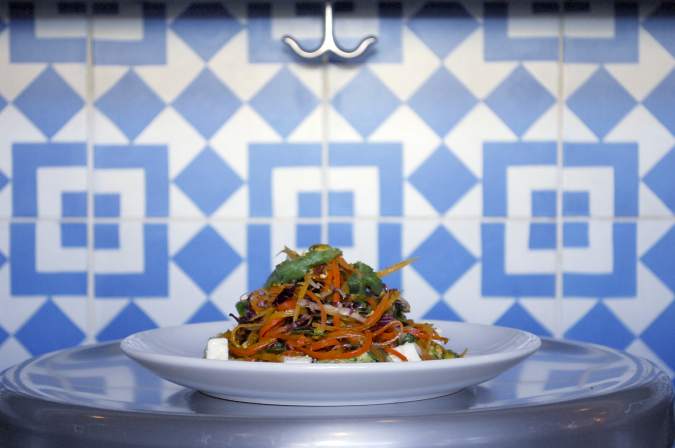 Above, Granada Tile's blue and white Fez concrete tile at Seattle's award-winning Greek restaurant, Omega Ouzeri. Below, Granada Tile's Rhonda cement tiles at East Borough, a casual Vietnamese restaurant in the Culver City section of Los Angeles.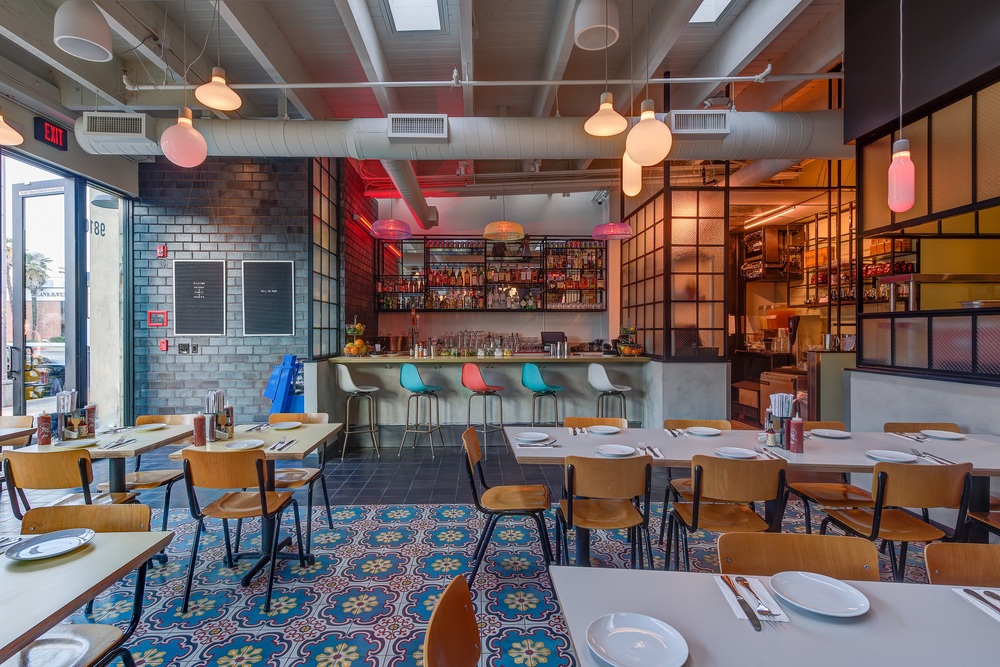 Granada Tile's Europa encaustic tiles at The Malibu Fish Grill looks like sea foam.  Below, Granada Tile's La Rochelle tile on the patio of Bestia, in downtown Los Angeles.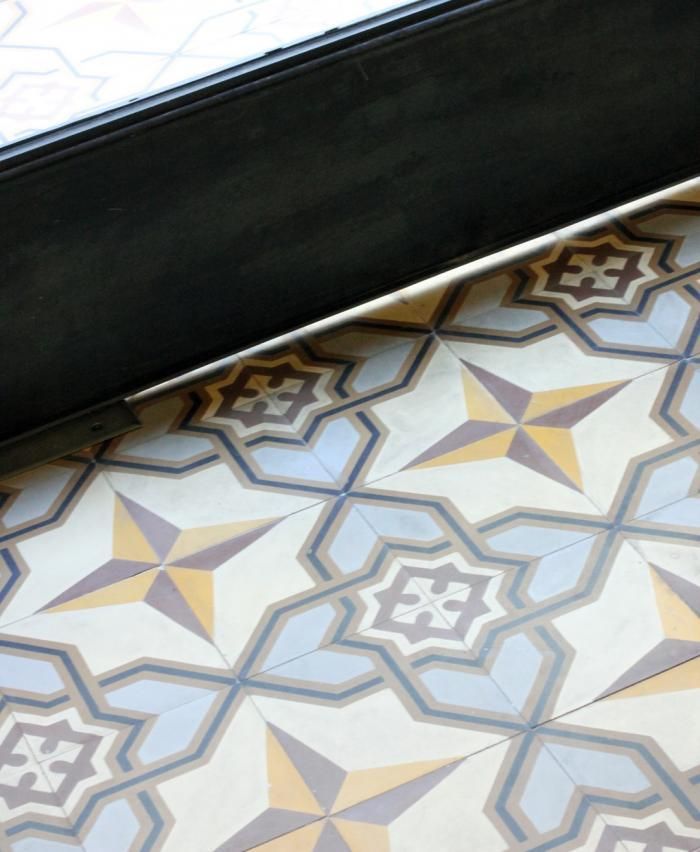 Many of our most popular concrete tile designs, like our Cluny concrete tile, our Badajoz cement tile, our Fez encaustic tile in blue and white and in black and white, and our Serengeti cement tile are in stock and ready to ship out to you immediately! The qualities that make Granada Tile's cement tiles the choice of award-winning coffee shops and hot restaurants around the country — along with their beautiful designs and vivid colors, our concrete tile is long lasting, easy care and low maintenance — are the same ones that make it perfect for your home tile project, whether used as patio tile, porch tile, kitchen floor tile, kitchen backsplash tile, bathroom tile, shower tile or laundry room tile. Start by visiting our cement tile shop to peruse our large selection of in-stock handmade master-crafted cement tiles and call us today at 213-788-4238 to discuss which of our encaustic tile designs would be perfect for your home or restaurant project.