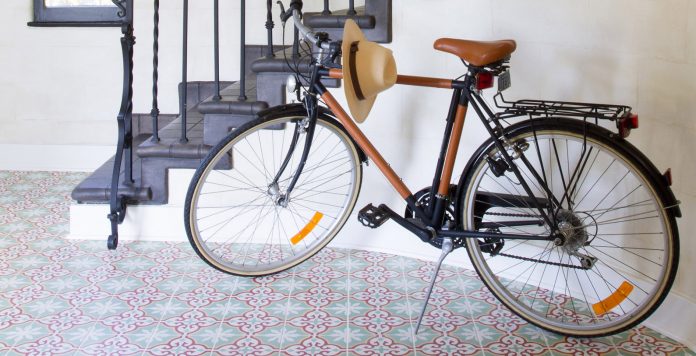 Cement tiles are many things, but the one thing they're not is overrated. If you think cement tiles are only popular now because of their beautiful designs and celebrity designer praise, think again. There are many reasons why cement tiles are such great products for a variety of places and come with many advantages.
Granada Tile manufactures some of the highest quality cement tiles on the market and we're here to teach you more about why we love them so much.
Top Notch Durability
Made from a mixture of powdered marble, cement, sand and color pigment that is compressed under 2,000 pounds of pressure, cement tiles have proven their durability over centuries. They resist regular wear and tear. Cement tiles can hold up to heavy usage, spills and moisture exposure without damage compared to ceramic tiles and hardwood floors. A great example are 20th-century floors in Paris.
When you invest time and money in having one-of-a-kind cement tiles installed, you don't want them to wear away quickly. Cement tiles can last for years while maintaining their original luster, provided you give them the proper care. This not only makes them a stress-free option for your home but a cost-effective investment as well.
Eco-Friendly
Cement tiles are made by hand in small batches, which is why no two tiles are exactly alike. This means that, unlike ceramic tiles, they aren't made in large manufacturing plants.  Cement tiles are also made using natural materials, including the pigments, which greatly reduces the impact they have on the environment.
Unique Patterns and Vivid Colors
Due to their handmade nature, cement tiles display slight variations and imperfections that are completely unique. They lack the perfectly identical appearance that typical ceramic tiles have, which makes them appealing for those who value artisan products and a natural finish. Another quality that makes cement tiles so popular is the wide variety of gorgeous colors available. Cement tiles are made with a base color layer of 1/8", backed by 1/2" inch of concrete, which helps them maintain their appearance over time. The natural color pigments used in the creation process can be combined in a virtually limitless range of blends, allowing designers and homeowners to create a unique custom hue.
Customizable
If you've been looking for a solution to an area of your home that could use a boost, but can't seem to decide on a particular look, go custom instead. Cement tiles aren't churned out in a factory like ceramic tiles. They are made by skilled artisans who pay careful attention to detail in creating something a client will love. You can choose from a nearly limitless array of colors and can come up with your own mold to deliver a one-of-a-kind design. See a beautiful piece of architecture on a vacation that you'd love to incorporate into your home? Come across a beautiful color in a magazine? You can take these pieces of inspiration and work with our design professionals to create a custom cement tile.
Non-Slippery
Cement tiles offer a non-slippery texture that makes them perfect for bathrooms and showers. They can help prevent slips and falls while delivering an incredibly stylish appearance. To create a spa-like bathroom, use the same cement tile in one color, or in two shades within the same color family to give the space a serene look and feel.
Versatility for Different Style Homes
With such a wide range of colors, shapes, sizes and stylistic influences to choose from, cement tiles offer just as many possibilities for modern and contemporary homes as they do for traditional spaces. Traditional Moorish and Moroccan tiles are colorful, lively and best suited for traditional and eclectic homes. Modern spaces can still make use of the added texture and visual interest of cement tiles, with two-toned geometric patterns and neutral palettes.
Indoor and Outdoor Usage
Cement tiles can withstand moisture, daily usage, and sun without displaying noticeable signs of wear and tear. Their strength is what makes them versatile for interior and outdoor spaces alike. You can transition the indoors to your backyard with cement tiles on a patio floor, in an outdoor kitchen and even on retaining walls and built-in seating areas. However, you don't want to place cement tiles near chemically-treated water like pools and hot tubs because the chlorine can wear away at the sealer and damage the tile. Freeze and thaw cycles can also cause damage to cement tiles. They are best suited for outdoor use in warmer climates.
Low Maintenance
When properly sealed during the installation process and with regular cleaning, cement tiles can stand the test of time (and busy families) with minimal maintenance. To keep them in great condition, be sure to sweep them regularly to remove dust and debris and clean them with a mild pH-neutral soap regularly and as soon as spills happen. You'll be able to maintain the protective sealant on the tiles and keep their original beauty for a very long time.
Our team at Granada Tile knows you'll love cement tiles in your home just as much as we do. Browse through our beautiful collections of in-stock cement tiles to get ideas, or contact our sales team to begin creating your own custom design. No matter which style you choose, we guarantee you'll receive the highest quality, artisan-made cement tiles on the market.
Sources:
https://www.houzz.com/ideabooks/26039370/list/so-many-reasons-to-love-cement-tiles
https://homecarpetone.com/blog/2015/12/16/Fuzz_Buzz_Flooring/3_Reasons_to_Choose_Cement_Tile/ar/66/
https://www.granadatile.com/blog/5-reasons-to-choose-cement-tile-for-your-kitchen-backsplash/