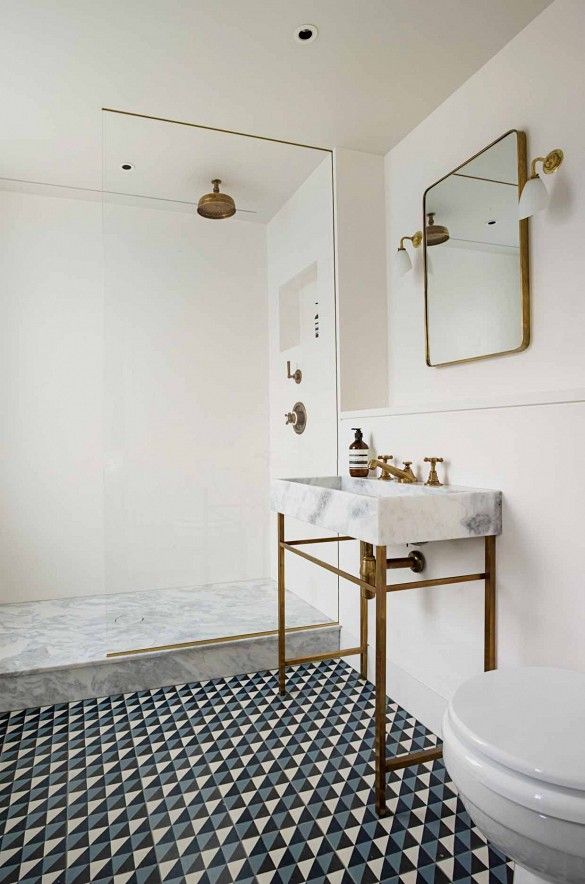 THE LOOK of the tile in this bathroom using our Maldon concrete tile in a 4×4 size. Beginning later this year, our Mini Collections of cement tiles will also include small triangles.[/caption] Happy New Year.  Well, it's that time of year again, when the predictions over what will be the hottest trends in home decor start rolling in.  Pinterest has come up with their Pinterest 100, a list of the trends that they believe will dominate 2016, based on the pinning habits of their more than 100 million users.  Of course, we were very pleased to discover that one of their predictions involved tile.  Per Pinterest, geometric patterns are hot for 2016.  We were certainly happy to learn that since we have lots of geometric patterns to chose from. Some of the geometric patterns in our echo collection that you might want to consider are:
Maldon concrete tile – a pattern of four triangles.
Khufu cement tile – an elongated triangle pattern.
Burgos concrete tile – a pattern of Escher-like descending boxes
Santander cement tile – consecutive stripes laid on a diagonal that can be laid to form a number of interesting patterns
Serengeti encaustic tile – this x-pattern creates a series of graphic boxes.
We are also planning to offer triangles as part of our Minis Collection of concrete tiles shortly.  Here's a similar pattern we quickly created that mimics the look of this bathroom floor tile.

Granada Tile's Maldon cement tiles in 4×4 size custom-colored in white, teal and black[/caption] Let us help you find the perfect tile for your space, whether you're looking for geometric encaustic tile, historic patterns, midcentury shapes or simple stripes for a bathroom renovation or a kitchen update. Many of our most popular tiles like our Fez encaustic tiles, are in-stock and ready to ship to you today!  The qualities that make Granada Tile's cement tiles the choice of award-winning coffee shops and top restaurants — along with their beautiful designs and vivid colors, our concrete tile is long lasting, easy care and low maintenance — are the same ones make it perfect for your home tile project, whether used as patio tile, porch tile, kitchen floor tile, kitchen backsplash tile, bathroom tile, shower tile or laundry room tile.  Start by visiting our cement tile shop to peruse our large selection of in-stock handmade master-crafted cement tiles and call us today at 213-788-4238 to discuss which of our encaustic tile designs would be perfect addition to your home or restaurant project.