Cement tiles are a wildly popular design option for floors, walls, and even fireplaces! They are sturdier than ceramic tiles because they are hand-poured, so it won't fade or chip like hand-painted ceramic tiles. These tiles have an incredibly long life, are low maintenance, and can hold up to heavy use.
Cement tiles have been used everywhere from Amsterdam to Istanbul, Los Angeles, and beyond, and some have held up for a century of use and more. Check out these stunning and stylish encaustic tile collections when you're redesigning your bedroom and are looking to show it off in your Instagram.
Accessorize Your Fireplace with the Echo Collection
The Echo Collection revitalizes an art form developed in France in the mid-1800s and spread across the world. These stylish tiles feature an old-world European design in a wide range of color patterns and styles. They can create a great eye line for the main floor pattern or around your bedroom fireplace hearth.
Use the Andalucia Collection for Your Bedroom Walls
The Andalucia Collection is all about organic shapes and rich hues. These hand-poured tiles are custom designed to capture the silky beauty that only cement tile can offer while adding unique silhouettes to distinguish any space. They come in a range of profiles from traditional and modern to exotic and are great for accenting bedroom walls or tiling a fireplace area.
Revamp Your Space Using Minis Collection
The Minis Collection is inspired by Moroccan designs, in particular the famous zellige ceramic tiles of that region, but in a sturdier and longer-lasting form. These cement tiles offer a wave of undulating color over your room and are ideal for adding a dash of pattern and depth to a solid color space like a mantel.
Elevate Your Spanish Style Floor with Olvera Collection
If you're looking to design a rustic and timeless look for your bedroom, go for the Olvera Collection. This collection of encaustic tiles uses a range of earth tones and rich colors to form a knockout floor design, especially when combined with accents from the Echo Collection.
Create a Timeless Room with Relief Collection
The Relief Collection is classic and subtle, and those who are looking for a classic design that never goes out of style can't go wrong here. These cement tiles come in square shapes debossed with straight or curvy patterns to add a touch of texture and depth to any area. It makes them ideal for smaller bedrooms where you're looking to create an illusion of space.
Choosing Your Cement Tile
When choosing the right cement tile for your space, the most important factor is to find a tile that speaks to you. Decide on your design and color palette, and then explore the various cement tiles available. Pick two or three that might fit your design and decide how they could best be laid to offer the most stunning and unforgettable look for your new bedroom area.
In the U.S., we tend to be quite hesitant about using cement tiles – or tiles of any kind – in our bedrooms.  However, in other parts of the world, this is commonplace and to great effect. Check out this gorgeous installation of encaustic tiles in an Indian bedroom.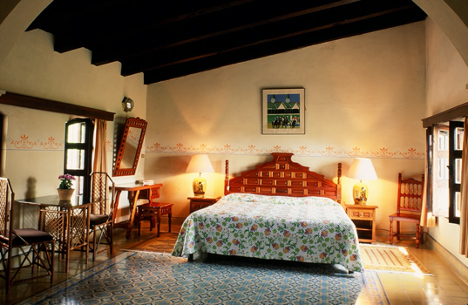 When you're ready to get started, we're ready to help you take your bedroom to the next level. For more advice, call Granada Tile at 213-788-4238 or contact us online today!