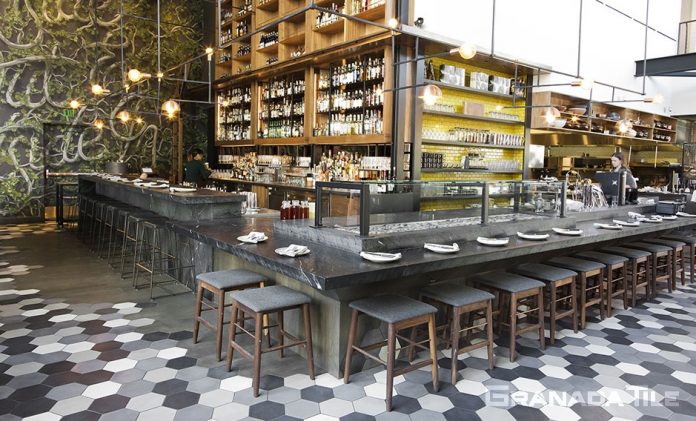 Every restaurant has the same goal – bring in new diners, deliver an outstanding experience, and create loyal customers. Even if the goal is obvious, however, pulling it off isn't always easy. Restaurants must deliver delicious food, outstanding service, and consistent quality. Plus, they must do it all in an environment that is stylish, appealing, and appetizing.
Restaurant aesthetics are an important yet often overlooked element of the dining experience. The look and feel of a physical space can influence every experience within that space. For a clear example, just think of the last meal you ate in a dirty or dingy establishment. The food may have been fantastic, but the experience was probably underwhelming overall.
A tile cement floor might not sound like the most important element in a restaurant. But a bold and beautiful floor makes an immediate statement to diners and leaves a lasting impression. It informs the restaurant's aesthetic, which influences the guest experience and, ultimately, determines whether they come back again. Learn more about the importance of aesthetics before considering whether your own restaurant sends the right signals.
Why Looks Matter More Than Ever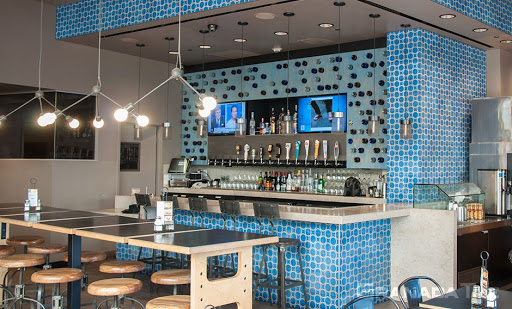 How do you find a new restaurant? If you're like most people, you pull out your phone and start searching online. One study showed that 75 percent of all diners look up at least a restaurant's menu before trying it for the first time. Many of these people are also reading reviews and combing through social media. That means diners see your dining room long before they ever visit. If your establishment doesn't look inviting, they will probably decline to visit at all.
Today's guests expect a space to be more than just nice. They also expect it to be cohesive by presenting a theme, making a statement, having an inviting atmosphere, and decor that unifies the space. If even fast casual restaurants can pull off striking designs, diners will expect something aesthetically pleasing everywhere they eat. Any restaurant that falls short feels like it's not trying and doesn't really care.
Contemporary foodie culture also places a new emphasis on aesthetics. Today's diners eat with their eyes, which affects what is on the plate and also what is around the plate. The aesthetics of the restaurant subtly but substantially influence the perception of the food, service, price, and overall quality. Said differently, the style of the space must reflect the ambition of the menu.
Designing a Space With a Tile Cement Floor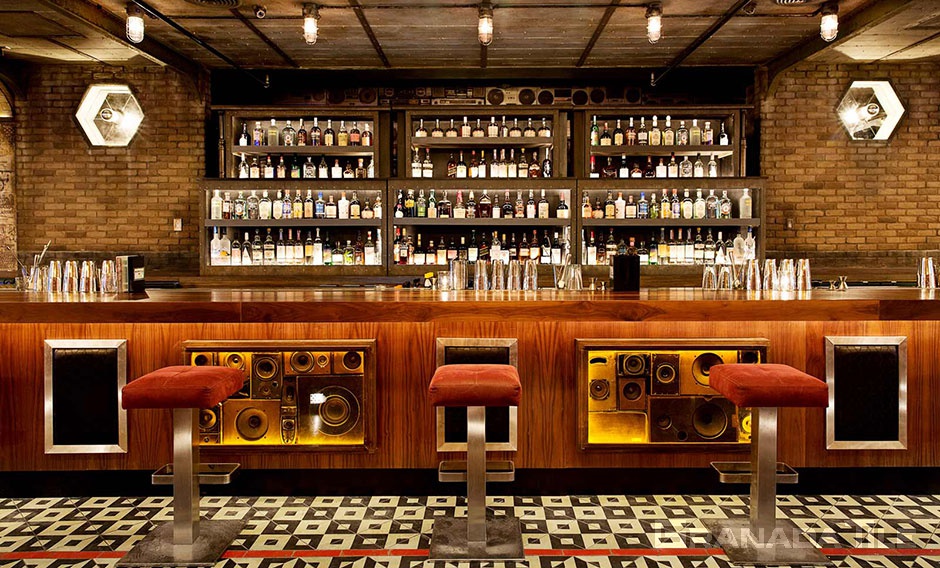 Flooring is one of the few elements that carry throughout a restaurant. It has the potential to be the centerpiece of the interior design and ideally complements everything around it. The choice of flooring creates exciting opportunities while also raising important questions.
A tile cement floor has become a popular option because it creates stunning design possibilities in any restaurant space. Every aesthetic is possible, including options that turn an average dining room into a one-of-a-kind space. Here are a few ways to make a tile cement floor the first thing that attracts diners to your restaurant:
Put Patterns on the Floor
Cement floor tiles are hand poured into intricate design molds to retain their uniform, unblemished look even if the surface is chipped or damaged. Building those designs into a pattern that continues across the floor helps to tie everything in the room together. Plus, the floor becomes a highly visible aesthetic element that is as powerful as anything on the walls or ceilings.
Go Loud or Soft
What color do you want your tile cement floor to be?  We offer 40 standard colors to choose from, and thanks to the hand-pouring and hydraulic pressing process, those colors last through years of use. Carefully deciding when, where, and how to apply color has a huge impact on the overall design scheme.
Add a Touch of the Exotic
An intricate design on a tile cement floor gives a space an exotic look reminiscent of North Africa. That look could become the anchor of your design or just an accent. In either case, it helps restaurants distinguish their space and craft an alluring aesthetic.
Mimic the Food
Ideally, the décor of any restaurant mimics the philosophy and flavor of the menu. That is why Latin restaurants often utilize bright colors and eye-catching patterns. No matter what kind of tile cement floor you choose to install, make sure it complements whatever arrives on the plate.
Working With a Tile Cement Floor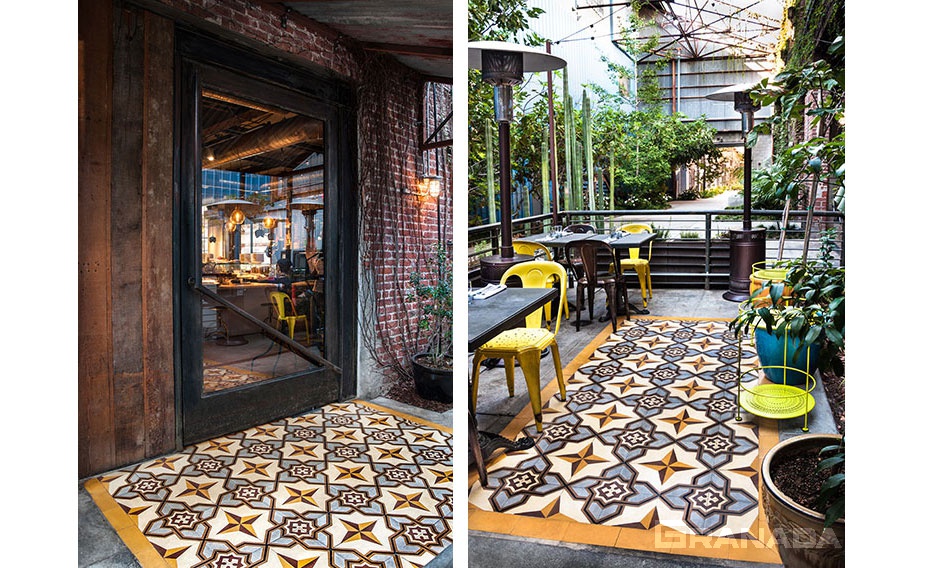 Restaurant designs should be as practical as they are stylish. Due to high traffic, frequent spills, and nightly cleanings, restaurant floors face extensive wear and tear. A tile cement floor has unique properties that make it ideal for a bustling restaurant setting:
Tidiness
Restaurant floors should be easy to clean without raising any concerns about health and safety. A cement tile floor does not collect dust and crumbs the way carpet does, and it's a lot easier to clean and maintain than a wood floor.
Strength
Cement is an incredibly durable material that endures daily abuse and rough treatment. Other flooring options show their age and are prone to dings, dents, and damage. Those are not concerns with a cement tile floor thanks to its long-lasting component materials.
Traction
Slips are a major concern in restaurants. Cement tiles naturally provide superior traction, which is something both guests and staff are looking for. Since the surface of the tile is smooth instead of textured, the tile is still quick and easy to clean on a daily basis.
Rejuvenate Your Restaurant with Granada Tile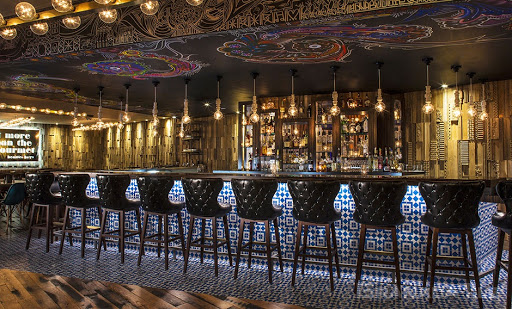 You won't regret installing a tile cement floor. It makes your restaurant more attractive and more functional at the same time. When you're ready to explore luminous colors and dazzling patterns, contact Granada Tile.