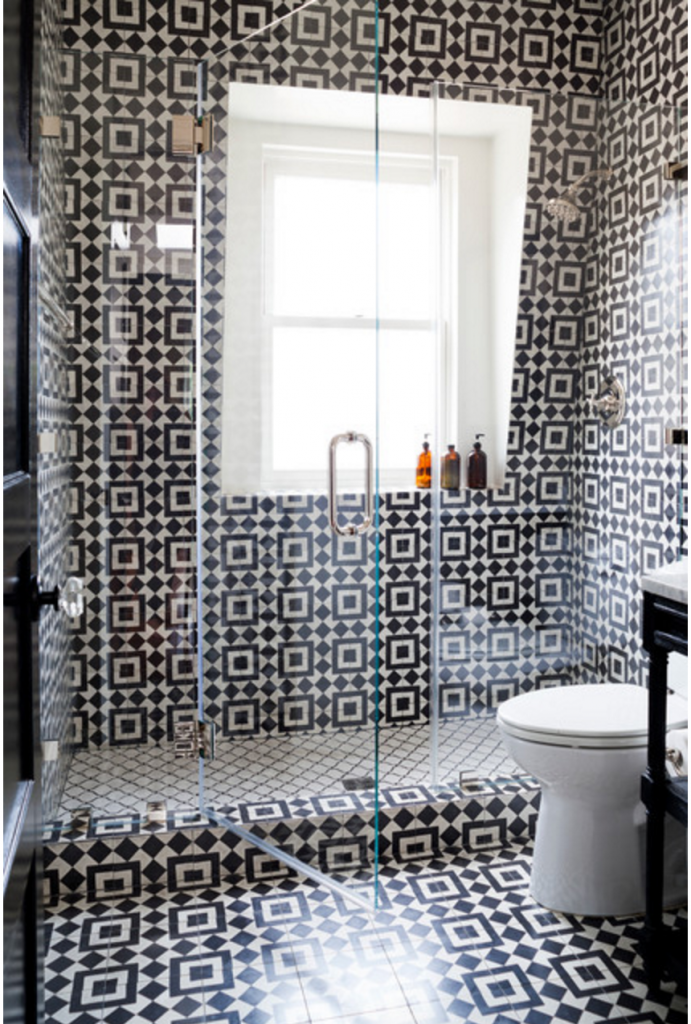 It's no secret how popular cement tiles are for floors and walls in stylish homes and trendy commercial spaces. They've taken the tile industry and home decorating space by storm with their impressive durability and nearly unending design options. One particular space where cement tiles shine is the bathroom. When used only on the floor, they add a pop of texture and pattern while breaking up an otherwise plain space. And when used in multiple areas in a bathroom, they create a wow-factor room you'll love walking into every day.
We love cement tiles for bathrooms for a number of reasons, and here are our favorites plus tips on how to use them in a bathroom with the latest trends and designs.
The Benefits of Cement Tiles for Bathrooms
Cement tiles are superior products for a bathroom. They can hold up to the inevitable water on the floors and walls, those steamy showers, and prevent any mold damage from taking hold.
Durability and Water-Resistance
Thanks to the unique manufacturing process which involves two thousand pounds of pressure and no glazes or kilns, cement tiles hold up against chips and cracks. For a bathroom, cement tiles can hold up to the daily wear and tear of this high traffic area, without succumbing to fading and water damage.
Silky Touch Without the Slip
Cement tiles are incredibly soft and silky to the touch, without being a slip hazard. They aren't slick like other glazed tiles and often come in a matte finish which won't become a slip and slide when wet.
Cement tiles can keep up their brand new appearance for years to come. Because of the tough manufacturing process and the fact that the design and pigment is set into the tile itself, you won't get frustrated with fading colors and worn designs like other types of tile.
Once cement tiles are sealed after installation, maintenance is minimal. Wood floors warp from the water and heat inside a bathroom, and glazed tiles can get stained and worn down with heavy usage. Cement tiles for bathroom retain their appearance longer and aren't as high maintenance. Clean up spills right away, and use clean water and a natural cleaning solution to wipe away marks. Read our cleaning and maintenance guide here for cement tiles.
Another reason to love cement tiles for bathroom floors and walls is that they are environmentally friendly. Made with sustainable materials by hand, cement tiles require very little energy to produce.
Ways to Use Cement Tiles in a Bathroom
There are so many practical reasons to choose cement tiles for the floors and walls in your bathroom, but there are also so many ways to use them.
Cement tiles for bathroom floor look luxurious and feel silky to bare feet. Use a bold pattern on the entire floor in your bathroom, or use a unique pattern in a rectangle to mimic the look of a rug.
Tiling all four walls in a bathroom from floor to ceiling will create a serene spa-like environment while protecting the walls from the water and steam from showers and baths.
Add a ton of traditional character to a bathroom by tiling halfway up the walls to create the look of wainscoting.
The shower is the perfect place to use cement tiles for bathroom. The water-resistant tiles will keep the floor and walls dry while adding serious style.
Classic Designs and Trendy Styles
Go au natural with cement tiles in neutral tones and natural finishes, like terra cotta, gray, and beige. The natural look injects an organic, rustic tone to spaces like bathrooms that can otherwise feel cold and sterile.
Bright Jewel Tones and Dark Hues
On the other end of the spectrum, many homeowners use brightly colored cement tiles in aqua, cerulean blue, deep navy and even black to add drama and wow factor. In a space like a bathroom, it's okay to go bold because bathrooms are closed off and separate from the other living spaces in a home.
Intricate Moorish Patterns in Large Sizes
Large-scale cement tiles make a big impact in a space, especially when combined with a busy, intricate pattern. Moorish cement tiles for bathroom floor will add that pop of color and pattern that more eclectic spaces are craving. Use the same patterned tile in the shower alcove.
Geometric Shapes and Patterns
Geometric tiles continue to be popular for adding striking lines in plain, boring bathrooms. Tile the floors or in the shower to balance simple, neutral walls with interesting colors and shapes. Hexagon tiles are especially trendy right now and can be used large scale or as tiny mosaics.
Arabesque tiles are very sophisticated with their curved lines and hourglass shape. They work in just about any style home, and give a Moroccan feel. Keep them simple and modern in a single, neutral tone, or pump them up with a bright fresh color.
Tiny tiles were first made popular for kitchen backsplashes, but can work just as well in bathrooms. Use mini cement tiles for bathroom floors and walls by creating a rug using mosaic tiles on the inside rectangle, and using them inside the shower.
Choose any cement tile pattern and color you like, and go with a matte finish to stay up-to-date with the not-so-shiny trend.
Cement tiles come in a nearly unending amount of design possibilities and are completely customizable for any color or pattern you can dream up.
Get creative with cement tiles for bathroom, using them on the floor and walls, or even just inside the soap shelf to add a pop.
If you have any questions about picking out and ordering cement tiles for bathroom floors and walls, get in touch with Granada Tile. We have guides on how to tile a bathroom wall, how to choose the right tile, and fun ideas for shower tiles. We can also walk you through the process of creating a custom cement tile design.
Contact us today!
Sources:
http://www.hgtv.com/design-blog/design/bathroom-tile-trends-2017
https://rusticotile.com/trends-cement-tile-bathroom/
http://www.mydomaine.com/tile-trends-2018/slide2
https://www.popsugar.com/home/2018-Tile-Trends-44167649?stream_view=1#photo-44167804