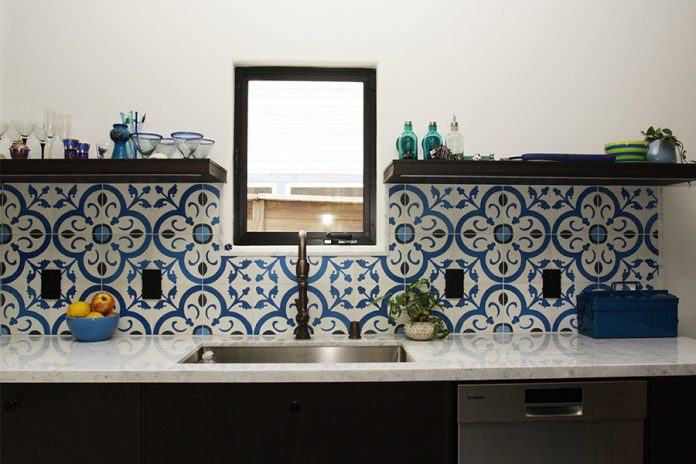 Kitchen renovations are a great way to add value to your home, and that's because the trend changes among popular kitchen designs. The kitchen is the heart and soul of your home, and renovating can create a warm, welcoming space that speaks of your personality. The backsplash is a vital part of the remodel. It can form an accent or a focal point of the kitchen, depending on your overall scheme. Learn how to create the most striking kitchen backsplash using hand-poured custom cement tiles.
Elements of a Striking Kitchen Backsplash
Your kitchen backsplash can take any number of forms, from a stunning accent that contrasts with the rest of your design to a focal point that sets the design. They can be found with a natural-stone look that extends to the ceiling, or they can offer a simple industrial, minimalist, or modern look in a neutral gray, stark white, or sleek black.
Other approaches might offer geometric patterns and shapes that set off shelving and cabinets. Design choices can present an old-world, natural look that resembles stone or earth tone patterns, or they can be bright and bold to lighten up the room.
Kitchen Trends and Style
The first decision you'll have to make is whether it will fit your taste, roll with the latest trends and style or balance the two. Go for the hottest trends if you're looking to add value for sale. Otherwise, make sure you show off your sense of taste.
Granada Tiles' Olvera collection can suit just about any style with its wide range of shapes and patterns. These can be had in everything from squares, rectangles, hexagons, and diamonds to pickets, arabesques, and other geometric patterns. They combine the textures and colors of earthy terracotta and stone with outstanding durability and style.
Why Choose Cement Tiles?
Custom cement tiles from Granada Tiles are an outstanding choice for your kitchen backsplash. These hand-pour patterns are low maintenance and sealed and can take a great deal of heavy wear. These tiles will last for many years and always look as great as the day you first installed them.
While the Olvera collection is a terrific place to start, you can also choose from a wide range of additional styles. Our Echo collection evokes a mid-1800s French form, while Andalucia combines layered colors and sensual forms. For modern Mediterranean looks, consider the Minis collection. The Relief collection offers relief-patterned tiles in a range of bright colors and etched shapes.
Ask a Specialist: Granada Tile
If you're still not sure where to go with your backsplash design, check out our discussion of how backsplash has changed over the years or find out how to use a backsplash to improve the look of your kitchen. If you have any other questions, want to place an order, or need to ask a specialist for more advice, call Granada Tile at 213-788-4238 or contact us online today!